SPECIAL PRODUCTS By Tom Rossman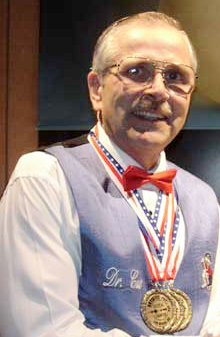 SPECIAL PRODUCTS RECOMMENDED by Tom "Dr. Cue"® Rossman, B.D., ESPN, WMTSC, WAPC (Doctor of Billiardology, ESPN & World Masters Trick Shot Champion, WPA World "Artistic Pool" Champion)!
"Dr. Cue"® has played for over 40 years and entertained thousands worldwide through the medium of trick, fancy, skill and novelty style challenges. Along with an outstanding tournament record, he has taught professionally for over 35 years and served as a vital link in the success of the syndicated television show aired weekly – THIS WEEK IN POCKET BILLIARDS! He now brings these same elements of professional play and enjoyment of the sport to you through book and video, and DVD formats, plus a new and exciting form of "artistic" instruction called "Dr. Cue"® Cards.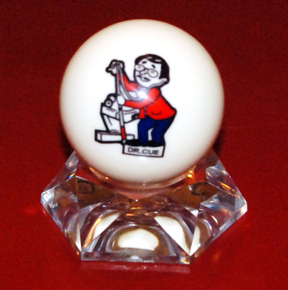 Autographed/Personalized
"Dr. Cue Ball" Only $15.00 stand included
The "Dr. Cue Ball" shows the official "little guy" logo of "Dr. Cue", which is now trademarked as a registered logo. It presents a brilliant three-color image, which has been applied by a special process designed for durability and long lasting appeal. Whether you are a collector of unique billiard products or want that special "gift" for someone that loves the game of pocket billiards, this high quality item is "just what the doctor ordered"!!
Signature options are available *Call Paul to order at 901 756-2594
Note: Signature options are as follows: (Please note which one you prefer)
Option #1) Autograph Only –
Tom Rossman over logo and "Dr. Cue" under logo
Option #2) Personalize and Autograph – To, (Your name of choice) above logo, Tom Rossman immediately under logo, and "Dr. Cue" under Tom Rossman – Please double check spelling of "To" name!!
Option #3) Customized Signing – Please double check all spelling, and make sure everything you want on ball is listed with specific clarity on layout.
Note: Unless date is specified or requested to be left off cue ball, the date of shipment will be used and placed under the "Dr. Cue" autograph.
Call Now to order at 901 756-2594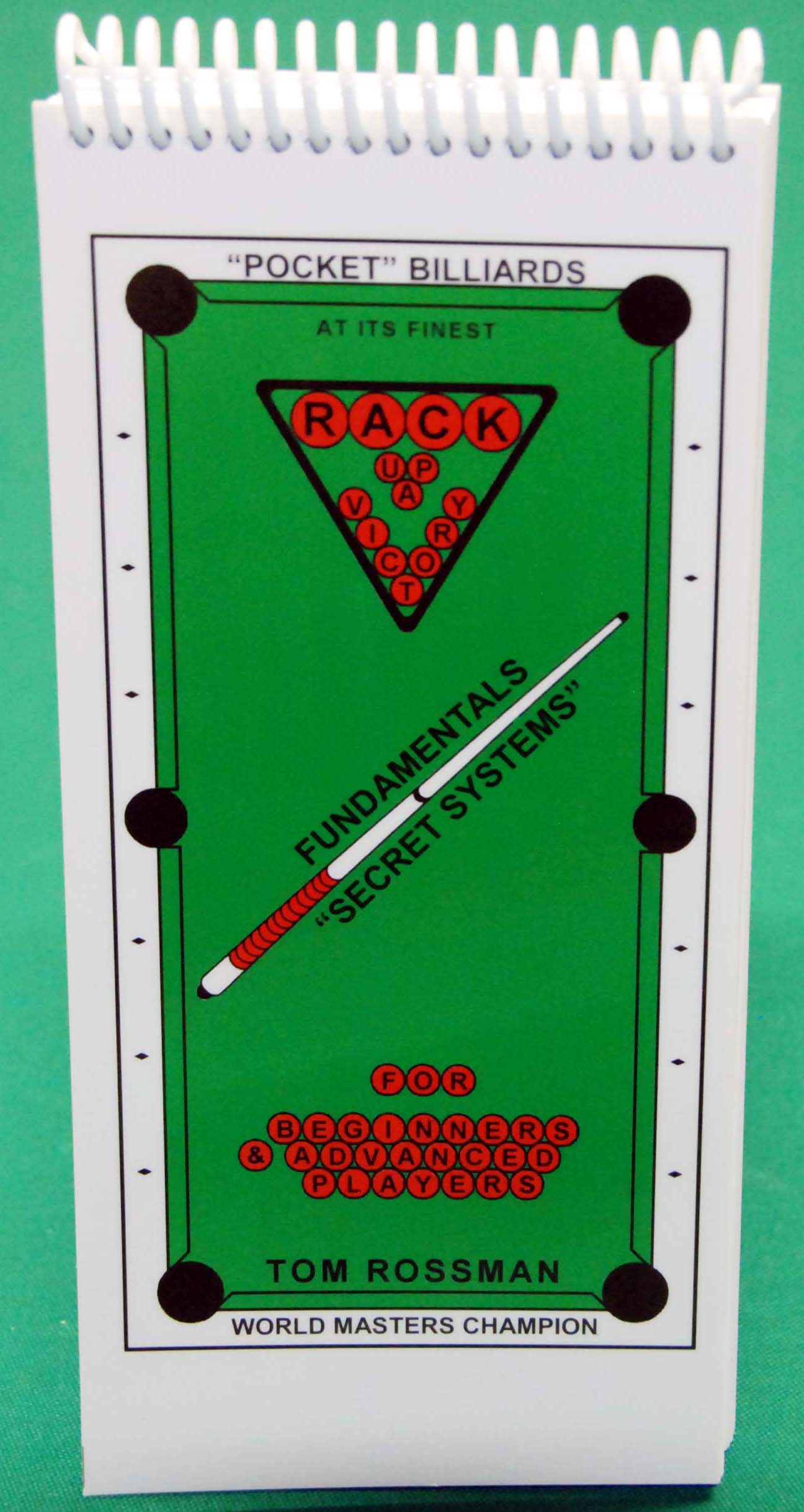 5th Edition Rack Up A Victory Book Only $7.00
The BookRACK Up A Victory – THE BOOK was self-published in 1988 and now enjoyes its 5th edition as the #1 best selling "pocket" billiards book throughout the billiard industry. 182 pages strong"¦ packed full of detailed fundamentals, advanced level techniques, and priced right to fit every player's budget!! This special edition has over 115 visual aids, a unique 31⁄2″ x 7″ pocket billiard size to fit right in your pocket or purse (or cue case), plus stays open right on the rail top for easy learning. Over 70 pages are devoted to "Dr. Cue's"® favorite instructional area: namely, diamond systems for both offense and defense.
* Same Great Price/Value * 5th Edition – Updated Content * New "Easy to Use" Spiral Binding * High Quality Laminated and Specially Designed Covers
DVD $20.00
Original VHS footage in "new chaptered" DVD format!
Call Paul to order at 901 756-2594
Monk DVD (3+hours)-Foundation for Kicking and Banking
Original content presented by Dr. Cue in "
new 3-disc album" package $75.00



Order Book, Both DVD's, and Cue Ball and "SAVE $37.00!!!

* Includes Acrylic Stand For Cue Ball

(LIMITED TIME ONLY)

Everything For Only $80 +S/H
SPECIAL BONUS: All items autographed by "Dr. Cue" at no extra charge!!

Order Now! 901 756-2594 Ask for Paul