Orcullo Delivers for the Philippines! Champion of the Predator Championship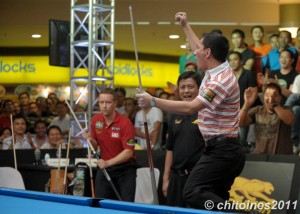 A jubilant Orcullo celebrates his triumph and ends a long dry spell for the Philippines
Manila, Philippines- Dennis Orcullo ended the Philippines long drought of fruitless wins when he defeated double world champion Mika Immonen in the finals of the Predator International Championship. Orcullo started the event off on bad footing when he dropped an embarrassing 9-3 loss to Japan's Yukio Akagariyama, but won 8 consecutive matches in a row to claim the 11 years ongoing Predator crown.
The day started off with the final four players. The last westerner was Mika Immonen of Finland, alongside 2 Chinese pros in Liu Haitao and Wu Jia Qing, and last Filipino standing Dennis Orcullo. Immonen and Orcullo had to defeat their Chinese counterparts in order to stop an all Chinese finals.
Mika started off his match super strong playing fast and perfect. Before long he built a 7-3 lead. But Mika then became too cavalier in his choices going more offensively and failed to protect his lead. Liu played steady with accurate potting to climb back until he took the lead at 8-7. In the final games Immonen went back to using his more knowledgeable experience to regain the lead and out defensed Liu in the final game to receive ball in hand and run out for the 10-9 thriller.
"I was playing so well and looking at the score saying to myself how did it end up being so close?!", said Immonen after the tight victory. That win was the third "hill-hill win by 1 game "win he had in the event.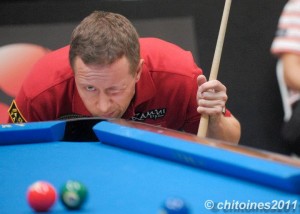 Immonen was able to stay focused and hold his nerves in the tightly contested semi-finals
Meanwhile the heavily anticipated Orcullo versus Wu match was next. Wu had demolished all his opponents and then won a 10-9 thriller over national hero Efren Reyes. Many fans and players predicted Wu as the favorite to win the match with his abnormal offensive shotmaking skills. But Orcullo hardly gave Wu a chance to see any open shots as Orcullo ran rack after rack building a large early lead at 5-1. Though Wu did make some incredible shots, the lead lost at the start was too much to overcome and Orcullo won handily at 10-6.
Immonen took the early lead at 4-2, but both players were showing nerves as unforced errors increased. Immonen stayed ahead most of the way but Orcullo was nipping at his toes throughout. At 5-3 leading, Immonen missed an easy 4Ball which would have led to a 6-3 lead. Orcullo on the other hand missed a routine bank shot on the 1Ball, and another game missed the same bank again on the 1Ball.
At 8-8, Orcullo made a positional error leading to a mediocre safety. Immonen with a chance to play a strong defensive move instead left the shot open for Orcullo to come back with a better safety. Immonen lost the exchange and Orllo ran out and proceeded to break and run the next rack for the 10-8 win.
This would mark the second time Orcullo has won the event . The first time was in Las Vegas in 2009. He is the first Filipino to win this event twice, with Efren Reyes winning it last year.
"I wish I would've played with the same focus and intensity as I did against Chris Melling in the final sixteen stage. If I did, I would've perhaps won this match. But Dennis deserves this. He is one tough cookie," said Immonen.
"I'm so happy to win this for the Philippines. It's definitely a much greater feeling to win it here in Manila then when I won in Las Vegas!", said Orcullo in his finals speech.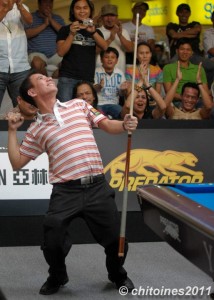 The 11th Annual Predator International Championship is the premiere event of Predator Cues and produced by Dragon Promotions taking place this week September 15 – 18, 2011 at Robinson's Galleria Mall in Manila, Philippines. The event is co-sponsored by Asia Brewery Incorporated, Yalin Tables, Andy Cloth, Pool & Billiard Magazine, Colt 45 Strong Beer, Summit Natural Drinking Water,  Motolite, Aramith Balls, Robinson's Galleria, Magic 89.9 Radio, Philippines Star Newspaper, Crowne Plaza Ortigas, and TV network partners ABS-CBN and ESPN Star Sports. World class pros from 30 countries were represented at this year's event. Daily coverage and full info on www.predator10ball.com
Fans can view the archived stream online for free at http://www.liveonlive.com/show/predator10ball-manila-sept2011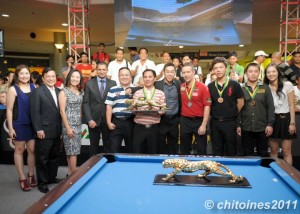 The Golden Predator Cat, symbol of the Predator Champions
Dragon Promotions is one of the leading producers of billiard programming in the world today. In a span of over 10 years, Dragon Promotions has produced over 100 international events airing on networks in USA, Korea, and Europe such as ESPN, ABS-CBN, ESPN Star Asia, MBC ESPN, XTM, XPORTS, and Euro Sport. Events include The World Tournament of 14.1, The Predator International 10-Ball Championship, King & Queen of Carom, Empress Cup, Pro Pool Schools, DP Pro Classic, Women's Trickshot Challenge, World Junior 10-Ball Championships, The World Mixed Doubles and many more.  Dragon also manages some of the world's best players including Allison Fisher, Mika Immonen, Shanelle Loraine, Rodney Morris,  Charlie Williams,  Mike Davis, Erica Park and many more.
Visit www.dragonpromotions.com  or www.dragonpromotions.co.kr