TRI-STATE TOUR- At Sandcastle
Daniel Dagotdot wins Tri-State at Sandcastle's A/D 10 Ball event.  Daniel played strong all day winning nine matches and losing one. His tournament trail included wins over Stewart Warnock 7 – 3; Arturo Reyes 7 – 6 and Mark Pantovic 7 – 5, before suffering a loss to the ever tough Dan Cintron 7 – 4. On the one loss side, Daniel fought his way to the Finals by defeating, Joe Palone 7 – 4; Ricardo Mejia 7 – 6; Raul Reyes, Jr. 7 – 2; Rick Shellhouse 9 – 7 and Allen Wong 8 – 5, to get another shot at Dan Cintron. During the Finals, Daniel Dagotdot took an early 5 – 1 lead before Dan Cintron asserted himself. At a score of five games apiece, Dagotdot regained control and never looked back, with a 9 –  5 victory. Dan Cintron, Allen Wong and Rick Shellhouse are to be congratulated on their solid performance of 2nd, 3rd and 4th respectively.
Many thanks belong to The "Sandman" for his generous support of the Tri-State Tour and providing excellent playing conditions.  Please provide a thank you to Sterling-Gaming, Ozone Billiards, Ron Tarr Cues, Kamui Tips, Phil Capelle, BlueBook Publishing, Human Kinetics, and for their sponsorship leading to this event.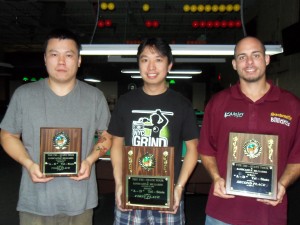 | | |
| --- | --- |
| 1st | $700.00 |
| 2nd | $470.00 |
| 3rd | $290.00 |
| 4th | $190.00 |
| 5th – 6th | $120/$120 |
| 7th – 8th | $90/$90 |
| 9th – 12th | $60/$60/$60/$60 |