APA RECEIVES GUINNESS WORLD
APA RECEIVES GUINNESS WORLD RECORD AMONGST RECENT ACCOLADES
APA National Team Championships Recognized as World's Largest Pool Tournament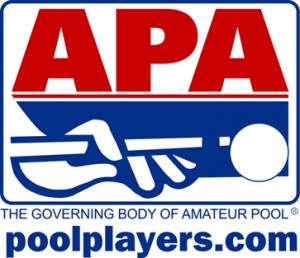 LAKE SAINT LOUIS, MO (February 3, 2011) – Two thousand ten was yet another banner year for the American Poolplayers Association (APA).  In October, APA Founders Terry Bell and Larry Hubbart were inducted into the Billiard Congress of America Hall of Fame.
Then late last year, the 2010 APA National Team Championship, held in August in Las Vegas, was recognized by Guinness World Records as the  "world's largest pool tournament."  Shortly thereafter, APA set yet another membership milestone with a record 270,366 members in 2010.
The good news hasn't stopped for the APA with the turn of the calendar.  They were recently recognized in USA Today as one of the "Top 50 franchises for veterans." They've also been recognized once again by Entrepreneur Magazine as the #1 "Sports Business Franchise," and #100 as "America's Top Global Franchise."
"These accolades are a tribute to the hard work of our League Operators and our National Office Staff, in addition to our very loyal members.  The entire APA network should take great pride in these accomplishments, and we look forward to even more success in 2011," said APA President Reneé Lyle.
The APA, based in Lake Saint Louis, Mo., sanctions the world's largest amateur pool league, known as the APA Pool League throughout the United States, and as the Canadian Pool League in Canada.  More than 270,000 members compete in weekly 8-Ball and 9″'Ball league play.  The APA is generally recognized as the Governing Body of Amateur Pool, having established the official rules, championships, formats and handicap systems for the sport of amateur billiards.
The APA produces three major tournaments each year-the APA National Team Championships, the APA National Singles Championships and the U.S. Amateur Championship-that, together, pay out nearly $1.5 Million in cash and prizes annually!
The APA and its championships are sponsored by Aramith, Action Cues and Pool Dawg.
For more information about the APA, visit www.poolplayers.com.  For more information on buying an APA Franchise, visit www.apafranchise.com.