It's Anyone's!
12th December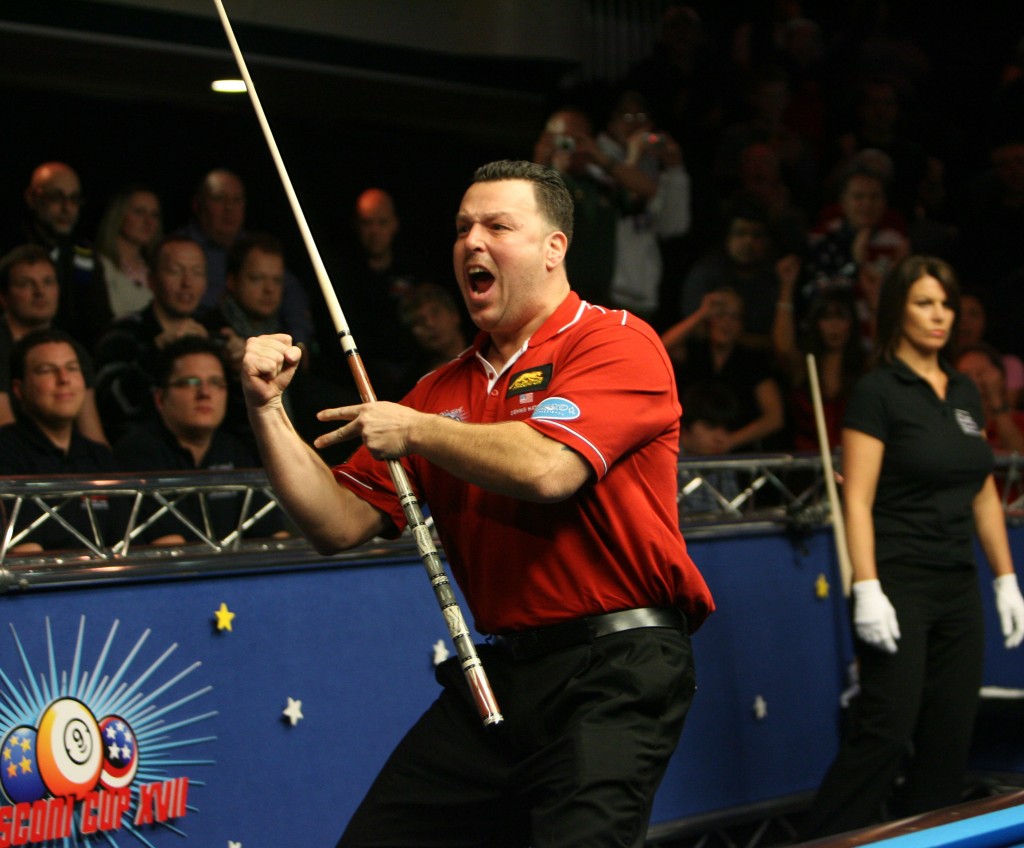 It's Anyone's!
USA 8 – 9 Europe
Rodney Morris 1 – 6 Mika Immonen
Johnny Archer 6 – 5 Karl Boyes
Dennis Hatch 6 – 5 Nick Van den Berg
THE 2010 PARTYCASINO.COM Mosconi Cup is finely poised as it enters the final session of the competition. Europe lead by a single point, but it was Team USA who have the momentum following successive final rack wins by Johnny Archer and Dennis Hatch.
Shane Van Boening and Darren Appleton will be first out, followed by Ralf Souquet v Corey Deuel and should things still be alive, there will be two captains' pick matches to decide the destination of the trophy.
Trailing by two coming into the afternoon session, the USA got off to the worst possible start as Rodney Morris bit the dust, a 6-1 victim of Mika Immonen as the races returned to six. That meant that Europe were within two points of regaining the Cup.
The flying Finn, making his 14th Mosconi Cup appearance, put in his most assured performance of the event so far while Morris, by contrast made too many mistakes to have a realistic chance of it.
Immonen enjoyed a couple of crucial flukes too, including an outrageous piece of luck on the green 6 in what was the final rack. He had hooked himself and slammed a hit-and-hope kick shot which saw the 6 go up and down the table and then fall into the side pocket.
Immonen offers his hand in apology but that will be of no comfort to Morris. From there he completed the rack for a very valuable point.
"The crowd is definitely helping us, there's a great atmosphere and my brothers and one sister are here and I'm very happy for them to witness the madness," said a delighted Immonen.
"We're on a great run and I hope it continues – I managed to control the cue ball better on the break.
"Rodney had to push out three times and that didn't help him. He seemed very tense, more tense than usual and I saw some nerves in his face and I used that for my own confidence.
"I knew a lot of pressure was on my shoulders to keep the lead and if they close the gap then they could be unstoppable so it was important to come out with all guns blazing.
"I'm honoured by my coach to be picked first and I'm glad I came through.
Johnny Archer kept the US hopes alive in the next as he took away Karl Boyes unbeaten tag in another thrilling encounter at the York Hall. Boyes looked dead in the water at 5 – 1 down, but as we have seen so many times before, no match is won here until the final 9 drops.
Boyes looked composed as he got the match back to the inevitable 5-5 scoreline. Full credit to Archer though as he held his nerve and ran out the final rack from the break to keep his team right in it.
"We've been fighting all week and it's tough. A couple of times I didn't get shots off the break but a couple of times I did and then the bottom fell out of it," said an honest Archer.
"The pressure doesn't compare to anything. The Mosconi Cup pressure is something you never get to experience unless you're in the team.
"In the first few years I was very nervous but now I'm not quite as nervous as I just try to cherish every moment as I might not qualify to get back.
"We aren't out of this. Nick Varner said to us you are down 9-6 in a race to 11 and have you been in that position so we said 'yeah'. Then he said have you won from that position and we said 'yeah'!"
It was the big man Dennis Hatch, last year's MVP, who got his side to within a point of the Europeans with another final rack win, this time over Nick Van den Berg.
Hatch lead 4-0 but a spirited comeback from the Dutchman saw him reach the hill first. Hatch levelled it and they both had chances in the final rack before the American prevailed.
"I was shaking like a leaf and it's hard to control your emotions as it can get to you really quickly," said Hatch.
"I think we've played horribly. We were supposed to have won almost every match. The only match we were supposed to lose was me and Johnny in the partners match but the momentum is now going our way.
"Playing terribly has nothing to do with the crowd. I like it when people want me to lose as that makes me want to win even more. But the table is playing differently to last year and the balls are sliding and the rolls are really fast if you catch it wrong."
Luke Riches, Matchroom Sport: luke.riches@matchroom.com