Ouschan takes Atlanta Classic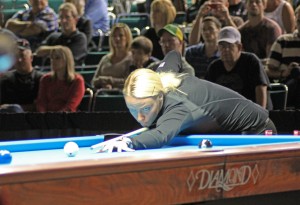 October 07, 2010
The WPBA Atlanta Classic was held September 30th – October 3rd, 2010, at the beautiful Gwinnett Center in Duluth, Georgia. The event featured 64 of the top female players in the world. The inaugural Atlanta Billiard Show also kicked off and provided a variety of amateur events which included an Open Amateur, Senior Amateur, Women's Amateur and Junior divisions. The ABS also hosted the Ultimate Trick Shot Tour's Southeast Classic.
Play for the ladies of the WPBA began on Thursday, and after two days most of the usual suspects had made their way to the final 16. Allison Fisher was in great form at this event after back to back finals appearances in two Asian world ranking events. Fisher secured her spot in the final eight winners' side along with Jasmin Ouschan, who cruised her way to the redraw with three back-to-back wins. Other undefeated players included: Ga Young Kim, Monica Webb, Kim Shaw, Xiaoting Pan, Karen Corr, and Kyoko Sone. The one-loss side redraw included Line Kjorsvik, Naomi Williams, Helena Thornfeldt, Liz Ford, Tamara Rademakers, Gerda Hofstatter, Kelly Fisher, and Ewa Laurance.
During the first three days of match play there were a few surprises. Fresh from the tournament trail in Asia, 24th ranked Angel Paglia opened strong with a first round win and a second round upset over 14th ranked Tracie Majors. Regional Tour Champion qualifier Emily Duddy bested Melissa Little and 60th ranked Naomi Williams ousted 5th ranked Gerda Hofstatter. Liz Ford defeated Julie Kelly 9-7 and made the final 16 redraw but others weren't so fortunate.
Lone Star Billiards Tour Director Kim White, lost a 9-8 heartbreaker to Ga Young Kim in the second round but came back strong on Friday and eliminated Tracie Majors. Melissa Little was disappointed in her first round match but eliminated Janet Atwell Friday night. White and Little still checked up short of Saturday's final 16 redraw along with Vivian Villarreal, Angel Paglia, Julie Kelly, Dawn Hopkins, Liz Cole, and Nicole Keeney.
Three of the quarter final matches on Saturday resulted in 9-8 scores; Webb over Kim, Shaw over Kjorsvik, and K. Fisher over Corr. Ouschan also bested A. Fisher in the quarters. The semi finals pitted Webb v. Shaw and K. Fisher v. Ouschan. Webb pulled to a 6-2 lead initially but Shaw clawed her way back to a 6-6 tie. What looked to be an open table for Shaw in the final rack, Shaw hung up the 4-ball allowing Webb back to the table and she ultimately eliminated Shaw 7-6. K. Fisher fell to Ouschan 7-2. In the final match, Ouschan defeated Webb 7-6 and secured her first WPBA Atlanta Classic Tour win.
The WPBA has launched an all new website at www.wpba.com . One of the site's upcoming features will be a player/fan membership area with Fan & Patron Member listings. The WPBA Atlanta Classic kicked off Wednesday with a Membership Drive Telethon which was live streamed in the pro arena. The stream show included interviews, players' "Tips of the Day," practice sessions, and an inside look at the players meeting and Charity Event. Fan and Patron Memberships range from $25-$2500 with varying levels of exposure and benefits including player posters, headshots, Official WPBA merchandise, VIP Tour Event tickets, and WPBA Annual Awards Banquet tickets. Memberships are still available so visit the WPBA website
WPBA extends many thanks to its sponsors: American Poolplayers Association, Cuetec Cues, Simonis Cloth, Delta-13 Rack, Diamond Billiards, SalucSA/Aramith, Pooldawg, Mueller Recreational Products and Dawn Hopkins Productions. The 2010 Atlanta Classic Semifinals and Finals coverage will air Sunday, Nov. 14, 1–4pm EST on ESPN2. For more information, visit www.wpba.com.