KELLY FISHER DEFEATS MONICA WEBB TO CAPTURE HER SECOND WIN ON THE 2010 KWIKFIRE TOUR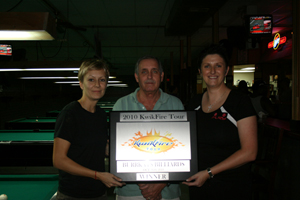 The field was as strong as ever with 6 top 16 WPBA professionals in the line up, including Kelly Fisher, Allison Fisher, Gerda Hofstatter, Kim Shaw, Line Kjorsvik, and Monica Webb who nearly nabbed the recent WPBA Atlanta Classic title. Coupled with tough semi-professional talent, and the inclusion of the top professionals, the KWIKFIRE events always provide the fans and players the opportunity to watch and enjoy highly competitive pool on both Saturday and Sunday.
Top professionals matched up early on which created a daunting one-loss side when Holly Sholes, Kim Shaw, Katie Cowan, and Line Kjorsivk all lost either their first or second round to tough opponents. On the winner's side, Gerda went on to beat Belinda 9-4; Kelly defeated Allison 9-4; Lisa Davids played solidly to beat Christi Steele 7-4, and Monica won against Cheryl Pritchard 9-5. By the end of Saturday, four remained on each side of the bracket and Sunday morning matches promised to be high quality.
Returning Sunday at NOON, Gerda squared off against Kelly and the match was close early on but then Kelly pulled away to win 9-5. Monica played a near flawless match against Lisa Davids, leaving very little opportunity for Lisa to get on the board. Monica appeared to be in perfect form and defeated Lisa 9-0. On the one-loss side, Allison matched up against Belinda Calhoun and won 9-3, while Line played Katie Cowan in a tight match with Line winning 9-5. Katie's 7-8th place finish secured her 3rd Top APA Finisher prize (Christi Steele came runner-up.).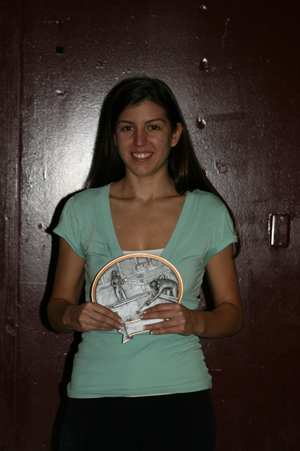 Four players remained on the one-loss side with Lisa set to play Allison and Line set to play Gerda. The matches were different: Allison couldn't find a groove and Lisa capitalized nicely by taking a 4-1 lead, and stayed steady to take the match 7-4. While Gerda and Line seem to be neck and neck for most of the match, and Line was able to put it away 9-7.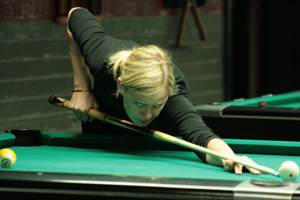 The hot-seat match between Kelly and Monica was close early on at 3-3, but then Kelly made quick work of a few racks and went ahead 8-3. Monica was able to get one more game before Kelly clinched it 9-4. And, on the one-loss side, Line was able to take down Lisa 9-3. Congratulations to Lisa on a great 4th place finish. After finishing, Lisa humbly said, "My cancer helps me and slows me down. I'm at a nice pace and winning isn't as important now that I've had a life-changing event. Ironically, I'm winning more because I'm not trying so hard."
With three players remaining, Line and Monica squared off and Monica took total control of the match with good fortune and skill. Line struggled to find any rhythm and lost 9-1. In the finals, Kelly maintained her dominating form and never allowed the match to get tense. She played great pool all weekend and took the title 9-4.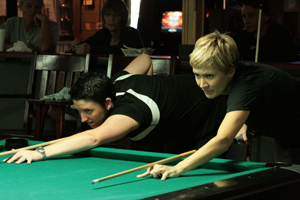 It was a bona fide KWIKFIRE weekend after Val Finnie won the Second Chance tournament by defeating Christi Steele.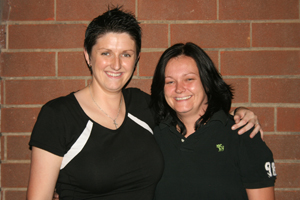 As a tournament director for the KWIKFIRE Tour, I'm proud to believe that this tour is the most talented regional tour for women in the World. It's a pleasure day in and day out to witness each players' love of the game and desire to excel at a sport we all enjoy. It's very rewarding to hear from local APA players that their game has improved since competing on the KWIKFIRE Tour. Please spread the word and encourage players who want to strengthen their billiard ability to join up.
Thank you to everyone who competed and came to watch, your continued support is very much appreciated. On a personal note, the KWIKFIRE team would like to say that it was wonderful to see and have Sulli Sullivan participate in the tournament. We are so glad to see her doing better. And, a special thanks to KWIKFIRE Cues for being our title sponsor and donating $2000.00 worth of cues per event. You can view all KWIKFIRE cues at www.kwikfireinc.com.
You can see upcoming KWIKFIRE Tour stops by visiting www.kwikfiretour.com. The 3rd KWIKFIRE Tour stop is this weekend, October 16-17th, at Family Billiards in Boone, NC. Go to www.kwikfiretour.com for more info and tour schedule.
We look forward to seeing all of you at upcoming events.
The KWIKFIRE Team