BUSTAMANTE AND REYES HOPE FOR MORE WORLD CUP GLORY
BUSTAMANTE AND REYES HOPE FOR MORE WORLD CUP GLORY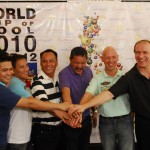 "It was huge for us to win in the Philippines last year as it was held here and it brought a lot of pride to the Philippine nation," said Bustamante, who, with Reyes, also won the inaugural tournament in 2006.
"We're practising every day, especially since winning last year and we were delighted to win the title – it's a big deal for us.
"Now I'm trying to correct my break because of the problems I had with it last year."
The main matches will be broadcast live in the Philippines on Solar TV and the Philippines A duo of Bustamante and Reyes will be in action on Tuesday night when they meet Thailand.
"I'm confident and relaxed as I'm used to playing in this tournament now and I'm relying on my partner who is now a world champion," added Reyes.
Ralf Souquet was part of the German side that lost in the 2009 final and The Kaiser admitted it would be difficult to wrestle the trophy away from the hosts.
"There are some great teams and of course our goal is to win it this year – we don't want to be runners-up again," said Souquet.
"But there are two great Philippines teams as well as strong teams from USA, China and England, who have won so much this year.
"The World Cup of Pool is a great opportunity to play in front of big crowds and it's a little more noisy than other tournaments."
The Philippines B side consists of Roberto Gomez and Dennis Orcollo, a winner at one of the toughest competitions of 2010 when he claimed the World Pool Masters trophy in Las Vegas in May.
"It's an honour to be representing the Philippines and we're going to be doing everything we can," said Orcollo.
"It's going to be a tough tournament because of the talent that is here but all we can do is our best. I've told my partner we just need to practise and stay focused."
Ralph Roy, vice president of business operations for Solar TV, said: "This is a great event, a big event for us and the Philippines and we're proud to be hosting it.
"All of the best players in the world will be here and we're glad they will be showing off their talents here.
"We'll be showing the best matches and I invite all Filipinos to come and watch the matches."
Luke Riches, Media Manager of Matchroom Sport, added: "We all love coming to this country. The people are all so enthusiastic, there are some great players and we have a great presence in the media.
"Last year was one of the greatest pool finals ever seen where the Philippines won 11-9 in front of a massive crowd. We look forward to seeing thousands of people watch this year's fantastic event."
For full match reports and reaction, go to the official website www.matchroompool.com and click on the World Cup of Pool tab at the top of the page.