Amateur pool league is a hit in southwest Riverside County
By EVAN DRELLICH
Special to The Press-Enterprise
In past years, Riverside TAP, an amateur pool league founded by Ian Brock and his wife in 2009, didn't have enough teams to fund a trip to its organization's national championship.
In 2010, the league finally made it over the hump.
With 143 players and 21 teams, Riverside TAP will send three teams to Las Vegas for the 2010 TAP National Championship at Bally's.
"I think about half of the players in my league have the photograph of Bally's on the their cell phone," said Brock, a longtime Temecula resident who recently moved to Wildomar. "The league is freaking going crazy. You work for 365 days and it comes down to this one day where you have three matches and you got to get it done."
The Association for Pool is a call pocket, no-slop league for youths and adults, one of the largest governing bodies of amateur pool in the country. Riverside TAP matches are held in pool halls and other venues throughout southwest Riverside County, including Temecula, Murrieta, Menifee, Lake Elsinore and Canyon Lake. Play is set to expand to Hemet in October.
Which teams will head to Las Vegas will be decided in the Riverside TAP Masters Tournament in September. Two 8-ball teams and one 9-ball team, with a minimum of five and maximum of eight members, will make the cut.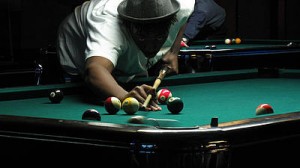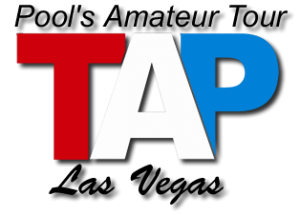 Special to The Press-Enterprise
Patrick Gibson, 20, of Temecula, is captain of the Fire Breathing Rubber Dukkies team, which competes in Riverside TAP's 8-ball Division I.
On one Masters-qualifying team is 53-year-old Aaron Aragon of Murrieta, a six-time National Wheelchair Players Association champion. Playing from a wheelchair, he last won a NWPA title in 2008 and joined Riverside TAP's Fire Breathing Rubber Dukkies team in spring 2009.
On top of the excitement of the upcoming Las Vegas trip, Aragon's presence has brought a cachet to Riverside TAP.
"When he's shooting, people stop playing and come over and watch," Brock said. "A guy who's got 20 years of knowledge at this sport. He's known around the world. He's just an amazing player. Everybody's stoked up."
Riverside TAP just finished its summer session on Monday, and will begin its fall session on Aug. 15. Membership costs $20 annually and $6 per individual night of pool.
Brock stresses the integrity of TAP Pool, from its family-friendly environment to the way in which its rankings are calculated via a computer system. Pool, he said, has had its reputation soured by a Hollywood perception and a few bad apples who have promulgated that perception.
"We really look out for sportsmanship," Brock said. "I don't want anybody making anybody feel uncomfortable. For six bucks, you get to go out, have two open tables. We have 17 experts in our league at this point. Our experts will teach you how to play pool. It's a great night out."
For more information, visit Riverside TAP's website, www.riversidetap.net.