Xiao-Fang Fu Wins over Allison Fisher for World 9-Ball Championship
Xiao-Fang Fu Wins over Allison Fisher for World 9-Ball Championship
By Sally Lee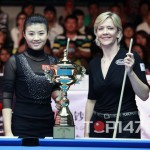 Gold Medalist and Silver Medalist Fu and Fisher All photo courtesy by www.top147.com & Tai Chengzhe
Shanghai, China- A new name in the billiards world will stand out as China's Xiao-Fang Fu has been crowned the 2010 Women's World 10-Ball Championship. Fu toppled a star studded field and overcame legendary Allison Fisher in the finals to become the second consecutive Chinese woman to win the World 9-Ball.
Fu made it through the beginning stage of the event making the top half cut to reach the round of 32 players. She made relatively short work of Hui Shan Lai 9-3, Ho Yun Tan 9-2, and a tough quarter finals match with former Amway Cup winner Chieh-Yu Chouh of Taiwan 9-7. In the semi-finals, she faced her friend and defending World 9-Ball Champ Sha Sha Liu of China, whom she defeated 9-6 to reach the finals.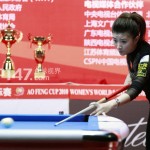 Fu has been a rising star in China, but has not been able to translate that success in international competition. This event marks a turning point in the road for her life. On the other side of the bracket another player facing her fork in the road was Allison Fisher. Fisher almost didn't make it to the World Championship when news of her brother's death reached her hours before her flight.
Her father had passed a few years earlier, and both had been major influences on her life and career.
Allison did decide to go but decided to keep the news of the tragedy private. A player could easily crumble under those circumstances but Fisher lived up to her name of "Duchess of Doom" as she steam rolled her first four opponents with a combined score of 32 games to 8 before reaching the quarter-finals. Fisher looked liked a woman on a mission and became the event favorite early on as she crushed WPBA star Gerda Hofstatter 7-3, and then defeated Germany's Ina Jentschura 7-2. In the round of 32, "Doom" demolished China's Xiao-Chun Zheng 9-2, and then played a near flawless match against USA's Angel Paglia 9-1 with a total of 8 break and run-outs during the match.
Asia's dominance in the sport has been well cemented in recent years, and in the Sweet 16, only 6 westerners made it to that round including Paglia USA, Kelly Fisher ENG, Brittany Bryant CAN, Monica Webb USA, Ine Helvik GER, and Allison Fisher ENG. Surprise early exits by pre-tournament favorites were made by Jasmin Ouschan, Karen Corr, Yu Ram Cha, Xiaoting Pan and Rubilen Amit who did not make the top 32 cut.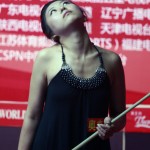 Kim was stopped by "Doom" for a 3rd World title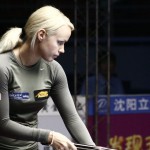 European Champion Jasmin Ouschan unexpectedly fell in the preliminary stages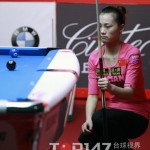 Sha Sha Liu came close to defending her title
In the Elite Final Eight, Allison Fisher was the only westerner left amongst the other 7 Asian queens of pool. But the Duchess proved once more why she is considered to be the greatest woman's player to ever hold a cue as she toppled 2x World Champion and 2x US Open Champion Ga Young Kim of Korea 9-7. Then in the semi-finals, Fisher trailed the entire match to Taiwan's Shu han Chang, but made a thrilling comeback from behind to win 9-8 to reach the finals. When she pocketed the final 9-Ball, with the cueball drifting near towards the corner pocket before stopping just a few inches away, Allison laid her cue on the table and placed both hands together and looked up at the sky in acknowledgement.
"The past couple days as I've progressed further in the event, it has been very emotional for me," explained Fisher.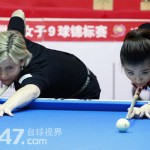 After 64 world class players had been reduced down to only two 5 days later. In the finals, Fu jumped out to a gigantic 5-0 lead in the race to 9. Finally Fisher got an opening to run out and finally got a point on the board. But the deficit looked near insurmountable, and it seemed that the personal emotions, fatigue, and overwhelming support for the home country favorite in young Fu would be too much for Fisher, let alone any other player, to withstand. But the Duchess of Doom showed a mettle that could only come from a champion's champion, and Fisher shot back a dagger into Fu's confidence with 5 straight wins of her own. Fu regrouped back with taking the lead 6-5 , but it was only temporary as Fisher tied it at 6-6. Fisher has a chance to run out, but made an error that gave Fu the game at 7-6. But Fisher counter striked the next game to make it 7-7.
Fisher smashed the rack and was left with an open table which she masterfully maneuvered through but left herself a slight reach on the 9-Ball. She opted for her bridge, which she is known to be a master with, and fired the 9-Ball in. But it failed to go !. Fortunately she left Fu a very tough cut shot down the rail with the cueball near frozen. Fu made an excellent attempt at the 9-Ball and got rewarded to take the leadt 8-7. The next game Fu failed to pocket a ball and left Fisher a mediocre safe. Fisher made the 1ball but hooked herself on the 2ball, kicked it but left Fu a wide open table and the match looked over. Fu ran out routinely, but the pressure of close finals match gripped her arm as she shot the 8ball into the point of the rail and missed. Fisher was hooked by the 9ball and had to masse to hit the 8ball and possibly make it. She made it! But the cueball rolled uptable and left herself a very low percentage 9-Ball. She made a fair attempt but it wasn't enough and left Fu a long bank shot on the 9-Ball. Fu fired at it and missed it terribly by two diamonds and almost fluked it in the side pocket. She again left Fisher a tough but makeable cut shot or bank on the 9-ball. Allison tried to slice the ball down the rail but missed it and ended up further penalized with a scratch. So with ball in hand, a very relieved Fu pocketed the 9-Ball for the win!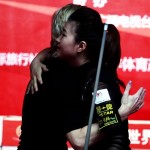 Fu and Fisher embrace after the hard fought finals
"Of course I would have liked to have won the event, but I am very pleased with my performance and result. To be honest over the past few years, I've struggled with my game, but I have re-dedicated myself to the sport and love playing again. I trained very hard for this event, and feel that my confidence is back, so this great finish was confirmation that I'm on track. I'm really looking forward to the upcoming events because I feel that I'm hungry again and my best games are still yet to come", said Fisher.
For Xiao-Fang Fu, it is a coming of age for the young Chinese woman's player pursuing a career in pool. For Allison Fisher, the event represented a resurgence of greatness and strength in overcoming personal tragedy and demons.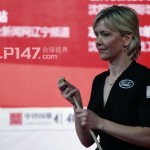 Allison has found a new found passion for the sport
www.dragonpromotions.com
www.dragonpromotions.co.kr
www.thekoreandragon.com
Dragon Promotions Founder
Player Rep for Predator Cues