World Cup of Pool Venue and Draw Announced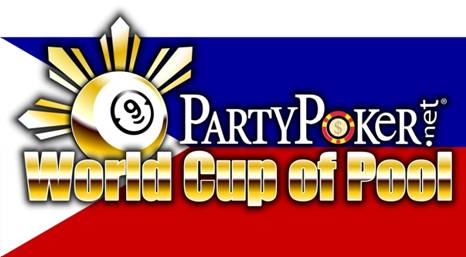 World Cup of Pool Venue and Draw Announced
Super Mall to Host Fifth Annual Team Pool Extravaganza
MATCHROOM SPORT is delighted to announce that the venue for the forthcoming PartyPoker.net World Cup of Pool will be the Midtown Wing of Robinsons Place in Ermita, Manila.
Originally built in the 1980s, Robinsons houses more than 330 local shops, dining outlets and entertainment facilities and the Midtown Wing, built in mid-2008, makes it the largest Robinson's Mall in the Philippines.
Matchroom Sport will be installing an arena with several hundred seats and there will be balcony space for hundreds more. All the action will be covered by Solar Sports for live coverage across the Philippines.
With the first round draw already made, 2009 champions Philippines A, consisting of Efren Reyes and Francisco Bustamante, will open their defence with a match against the unheralded team from Thailand (Nitiwat Kanjanasri & Surathep Phoochalam).
2008 Champions, Team USA, this year represented by Rodney Morris and Johnny Archer, face a tough opener in the shape of the Swedish duo of Marcus Chamat and Thomas Mehtala, while the highly fancied English pair of Karl Boyes and Daryl Peach will be optimistic as they face off against Qatar.
Last year's finalists Germany will also be fancying their chances as they meet Hong Kong, a team they beat 8-0 in the first round last year. The German team consists of Ralf Souquet and Oliver Ortmann.
The well-thought of Philippines B team of Dennis Orcollo and Roberto Gomez face the Croatian pair of the up-and-coming Carlo Dalmatin and experienced Philipp Stojanovic.
Featuring 32 two-player teams representing 31 countries, the PartyPoker.net World Cup of Pool takes place from 7th to 12th September and features a $250,000 prize fund with $60,000 going to the winning pair.
First round matches are a race to eight and commence on Tuesday 7th September at midday, concluding on Thursday around 18.00, when the second round gets underway.
The Draw
Philippines A (1) v Thailand
Indonesia (16) v India
China (8) v Belgium
Italy (9) v Korea
———————————————
Germany (5) v Hong Kong
Canada (12) v Russia
England (4) v Qatar
France (13) v Australia
———————————————
Philippines B (3) v Croatia
Spain (14) v Vietnam
Holland (6) v Austria
Finland (11) v Singapore
Taiwan (7) v Malaysia
Japan (10) v Slovenia
USA (2) v Sweden
Poland (15) v Malta
Schedule:
Tuesday September 7                                                                                    Wednesday September 8
Round 1 – race to 8                                                                                         Round 1 – race to 8
12.00 noon                                                                                                          12.00 noon
Canada v Russia                                                                                                England v Qatar
Indonesia v India                                                                                              France v Australia
3.00 pm                                                                                                                3.00 pm
China v Belgium                                                                                                Japan v Slovenia
Italy v Korea                                                                                                       Poland v Malta
6.00 pm                                                                                                                6.00 pm
Germany v Hong Kong                                                                                   Taiwan v Malaysia
Philippines A v Thailand                                                                                 Philippines B v Croatia
Thursday September 9                                                                                  Friday September 10
Round 1 & 2- race to 8                                                                                   Round 2 – race to 8
12.00 noon                                                                                                          12.00 noon
Holland v Austria                                                                                              Germany/H Kong v Canada/Russia
Finland v Singapore                                                                                         England/Qatar v France/Australia
3.00 pm                                                                                                                3.00 pm
USA v Sweden                                                                                                  China/Belgium v Italy/Korea
Spain v Vietnam                                                                                               Holland/Austria v Finland/Singapore
6.00 pm                                                                                                                6.00 pm
Taiwan/Malaysia v Japan/Slovenia                                                           USA/Sweden v Poland/Malta
Philippines A/Thailand v Indonesia/India                                               Philippines B/Croatia v Spain/Vietnam
Saturday September 11                                                                                Sunday September 12
Quarter Finals – race to 9                                                                             Semi Finals – race to 9
2.00 pm                                                                                                                1.00 pm
Quarter Final                                                                                                      Semi Final 1
Quarter Final                                                                                                      Semi Final 2
6.00 pm                                                                                                                6.00 pm  Final – race to 10
Quarter Final
Quarter Final                                                                                                      Final
Luke Riches, Matchroom Sport: luke.riches@matchroom.com
Notes: Matchroom Sport are one of the world's leading producers of televised sport and are responsible for over 1,100 hours of original programming across a range of sports. Based in the UK and chaired by charismatic founder Barry Hearn, the World Cup of Pool is one of a stable of pool events that include the Mosconi Cup and the World Pool Masters.
The 2010 World Cup of Pool is sponsored by PartyPoker.net, the world's leading online poker room. Tables are supplied by Brunswick Billiards, cloth by Iwan Simonis, Super Aramith balls by Saluc and the Official Cue is Predator.