The Joe Diaz National Three-cushion Billiard Tournaments
The Joe Diaz National Three-cushion Billiard Tournaments
A three tournament series of National three-cushion billiard tournaments
Hosted in loving memory of Mr. Jose (Joe) Diaz.
An open to the public series of events sponsored and sanctioned by the Illinois Billiard Club and cosponsored by the historical Iwan Simonis Billiard Cloth Company.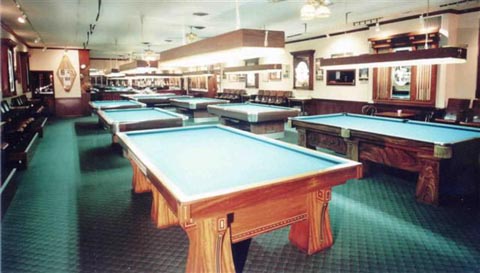 When: Saturday, June 12, 2010, / July 10, 2010, / August 14, 2010, (three separate events).
Starting Time: 9:00 AM
Where: The Illinois Billiard Club / 8446 Archer Ave. / Willow Springs, IL 60480
Game: Three-Cushion Billiards
Eligibility: Open to the public / Compete in one … or everyone!
Field: First 16 registered contenders.
Format: Prelims / Four … 4 player round robin brackets / Three … 15 point games played by all contenders.
Finals: One top finalist from each bracket advances to a 15 point, single elimination final.
Entrance Fee: $50
Contender Club Charge: None
Prize fund: All entrance fees.
Awards: 25% of field.
Award Distributions: 1st: 45% / 2nd: 30% / 3rd: 15% / 4th: 10%
Equipment: Two Antique Billiard Tables / Table #1 … 1900 BBCC Arcade used to set the IBC's all time high run of 22 consecutive three-cushion points / Table # 2 … 1916 Keefe & Hamer, an IBC historical acquisition from a home and furnishings designed by Frank Lloyd Wright.
Cloth: The world's finest and 300 years of refinement … Iwan Simonis Billiard Cloth
Balls: Aramith Billiard Balls.
To Register and for complete details: Contact Jim Parker / 708-839-1331 / E-mail … PJimandBon@aol.com



Note: To better control and reduce contenders pre-game waiting time, and as the IBC introduced in the club's past $30,000 nine ball series … Beginning at 6:00 PM every Friday evening preceding each Saturday tournament the IBC will host a witnessed blind draw for Saturday's pairings and starting times … tournament contenders do not have to be present, but must call the club the same evening between 7:00 and 8:00 PM to be given their specific Saturday starting time … (708) 839-1331.
Immediately following the Friday draw the IBC will host a "winner take all," single elimination, 10 point, $15 entrance fee ($10 prize fund / $5 club charge) rapid-fire and open to all … "Beat the Pros" warm-up tournament.


To better service the IBC's membership, tournament contenders, spectators and dinner guests … on both Friday and Saturday evenings dinner will be available from 5:00 PM in Bonnie's adjoining 100-seat formal dining room, and, the IBC's "Diamond Bar" will also be staffed and available. Additional parking in the IBC's rear garden parking lot and also the village parking lot.
For those of you receiving this announcement who are unfamiliar with three-cushion billiards and the proper way to learn, my wife Bonnie and I would like to introduce you to one of the greatest sports on earth with the easy to understand presentation by Walt Disney in Disney's 1950s following presentation …
http://www.youtube.com/watch?v=EM2LjQrwO6g
Please pass this announcement along to your friends and billiard players … or those who one day might become one!
Billiards,
Jim Parker, President
The Illinois Billiard Club
__________________
The Illinois Billiard Club's 1978 and third Chicago headquarters.
Even amid America's first "short-game" national three-cushion billiard tournament sanctioned by the American Billiard Assoc. (ABA), it was Mr. Jose (Joe) Diaz who took center stage, as seen smiling to the right of Mrs. Lonnie Brandes in the IBC's 1978 brainchild, and our nations first ABA sanctioned 15-point national three-cushion billiard tournament.
Ironically and thanks to the support and indorsement of visionaries like Joe Diaz, today, the IBC's short game concept is now being used globally in World three-cushion billiard tournaments!
Bonnie's Dining & Banquets and The Illinois Billiard Club
"Collectively and with Integrity now Servicing Society for over 58 years"
Banquets, Private & Semiprivate Dinner/Billiard Parties, Off-Premise Catering,
IBC Memberships, Friday & Saturday Dining/Billiards available to the Public from 5:00 PM.
"Reservations Strongly Suggested"
8442 – 8446 Archer Avenue – Willow Springs, IL 60480
"Call or E-mail us for your next Special Event" "¦ 708-839-5820 / 708-839-1331
www.PartiesatBonnies.com – E-mail: PJimandBon@aol.com