Mazin Shooni wins the First Stop of the 2010 TOUR!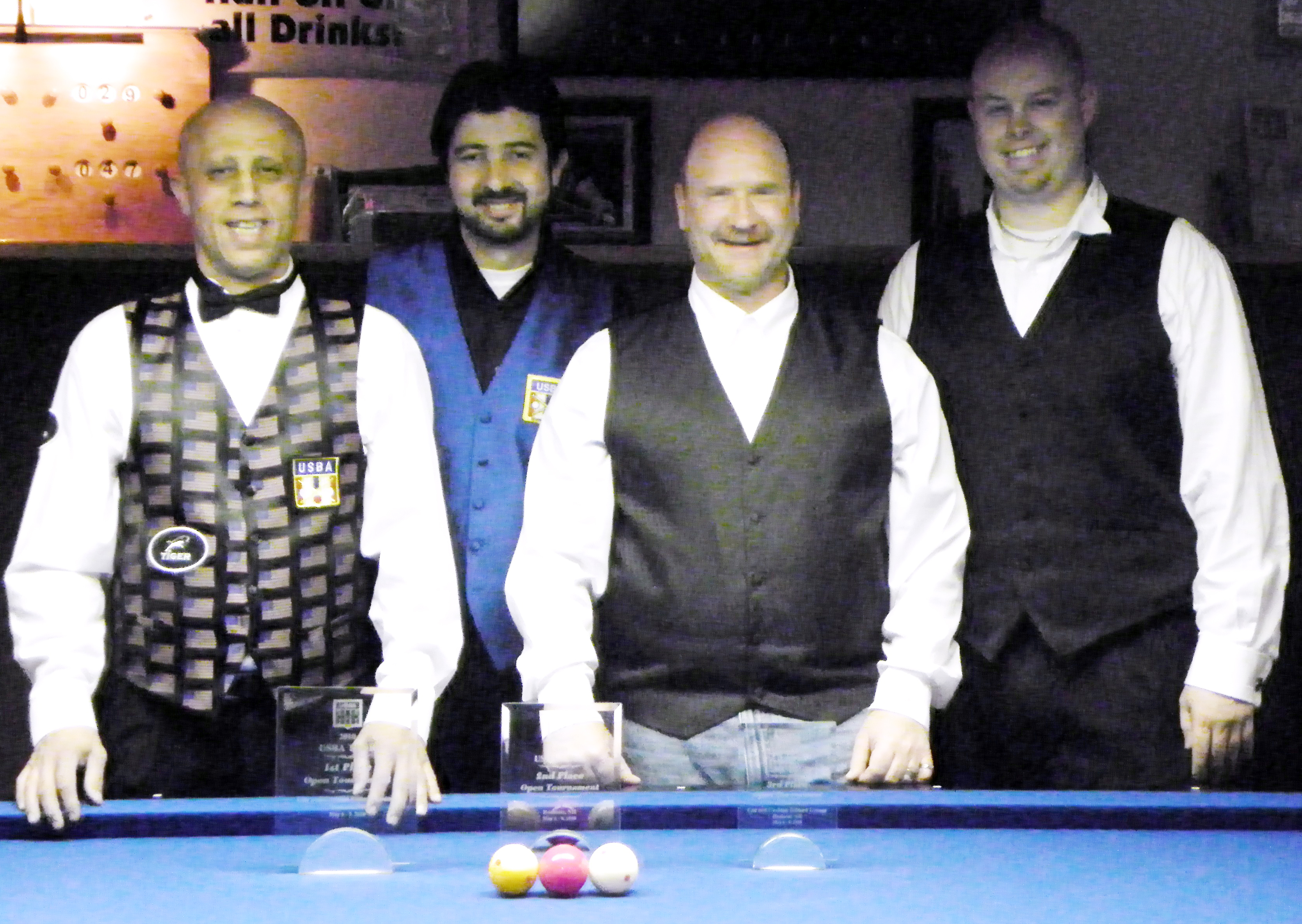 The first stop of the USBA Tour was held in Hooksett, New Hampshire, at Cue & Cushion Billiard Lounge, owned by 2006 USBA Champion, Mazin Shooni. The guest of honor at the tournament was 3-time USBA Champion, Pedro Piedrabuena, owner of College Billiards in San Diego, California.
There were 12 players in all and there was enough time to play a 12-player round-robin format. Each player plays every other player one time, 11 matches for every player. Plenty of billiards. 25 point matches were played and a scoreboard with a 45-second shot clock was used for every match, to keep the games moving along.
The obvious favorites to finish 1st and 2nd were Mazin and Pedro, but 3rd and 4th places were up for grabs with a field loaded with some fine "B" level players.
Tournament Highlights:
Mazin Shooni had a run of 14 against Tony Ferrara for the tournament high run and a $50 bonus.
Pedro Piedrabuena had a 12 inning game against Tim King and a tournament-best 11 inning game against Tony Ferrara (2.273 average) for a $50 bonus
Ellis Lawrence scored 20 points and averaged .909 against Pedro. He lost his last game against Rick McGuire which would have put him in contention for 4th place.
Tim King played steady, losing only 3 matches. He defeated Jim Shovak 25-21 in a great defensive match. The winner of that match would end up in 3rd place automatically.
Jim Shovak had a 16 inning game against Ellis Lawrence (1.563 average) and also defeated Pedro Piedrabuena 25-16, handing Pedro his first loss of the tournament.
Andrew Dangelmayer needed to win his final match against Raymond Tower to finish in fourth place and was trailing throughout the entire match. He came back to rally in the end and finished in the money. Great shooting, Drew!
Pedro, having one loss going into the final match against the undefeated Mazin Shooni, needed to beat Mazin twice in order to win the tournament. But Mazin took the lead and never lost it, winning 25-17. Mazin went undefeated, 11-0. Pedro finished 2nd at 9-2, Tim King was 3rd at 8-3 and Andrew Dangelmayer (7-4) edged Jim Shovak (7-4) for 4th place by just 7 billiards. Tony Ferrara (7-4) also came real close, but settled for 6th place.
Raymond Tower got a special award from Mazin for having the "most innings". Everyone had a good laugh. Prizes were raffled off afterwards and Pedro Piedrabuena won the Schuler Cue, donated by Noel Mendoza. Everyone had a great time!