The Base Community Airmen's Center was the venue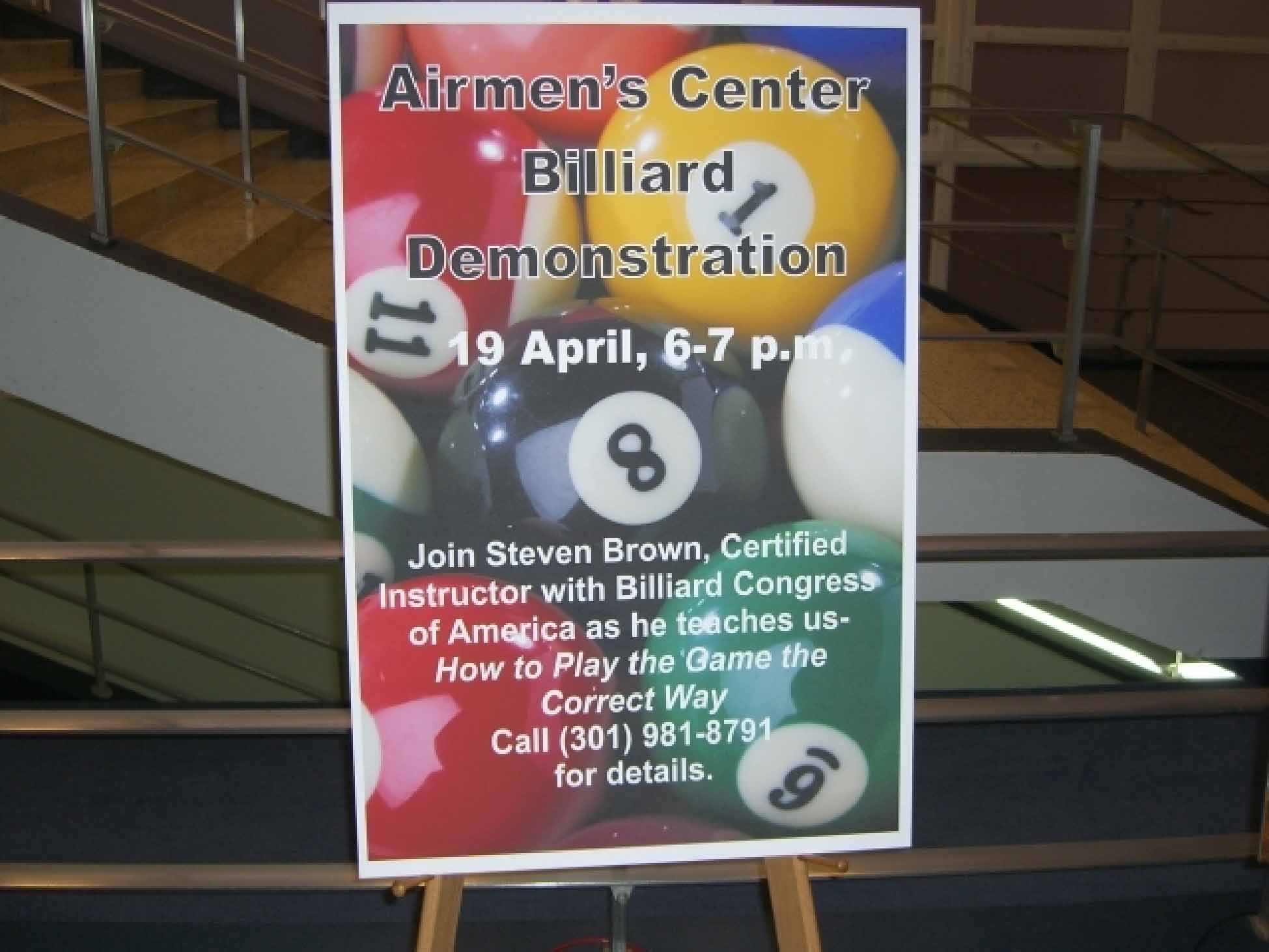 On the 19th of April, Andrews Air Force Base, located in Maryland, home of the Presidential plane "Air Force One" hosted it's 1st Pocket Billiards Instructional Workshop taught by Steven  Brown Sr.,  a Billiard Congress of America (BCA) Certified National Instructor.
The Base Community Airmen's Center was the venue, which had a Ceremonial Grand Opening in February. The Community Airmen's Center features Billiards, numerous flat screen TV's, Wii consoles, Xbox consoles, PlayStation consoles, Pay-Per-View boxing, movie nights, Internet Café, multiple video games, a study area, a outside barbeque patio with awning, a DJ on weekend nights and the full service Sports Page restaurant.
The new Community Airmen's Center is the concept of Mr. James Campbell, 316th Force Support Squadron Chief of Community Services and Colonel Steven Shepro, Joint Base Andrews Air Force Base Commander. The goal of the center is to "revitalize what the old recreation center used to be when I was in the military; a place for Military personnel, and civilians to come to and provide them with entertainment" Mr. Campbell said.
Mr. Brown taught using the "How to Play Pool the Correct Way" technique to inspire students to become one of his consistent shot-makers and he demonstrated methods of maintaining solid fundamentals. Mr. Brown is diligent as a Monk Master Student and the Premier Instructor throughout the Washington DC metro area, serving students (children and adults) in group or private sessions.
Mr. Brown is a faculty member at the College of Southern Maryland and Prince George's Community College, teaching their Pocket Billiards courses.
Mr. Brown is a member of the elite group of the "Charter Instructors" of the Billiard Congress of America and has been actively teaching since 1992. Mr. Brown has World Wide teaching capability and has taught Nationally, in Europe and Asia. He is also an American Cuesports Alliance (ACS) Certified instructor as well as a National Referee for the BCA and ACS. Mr. Brown can be reached at 240.678.3396 or mrstevenbrown@hotmail.com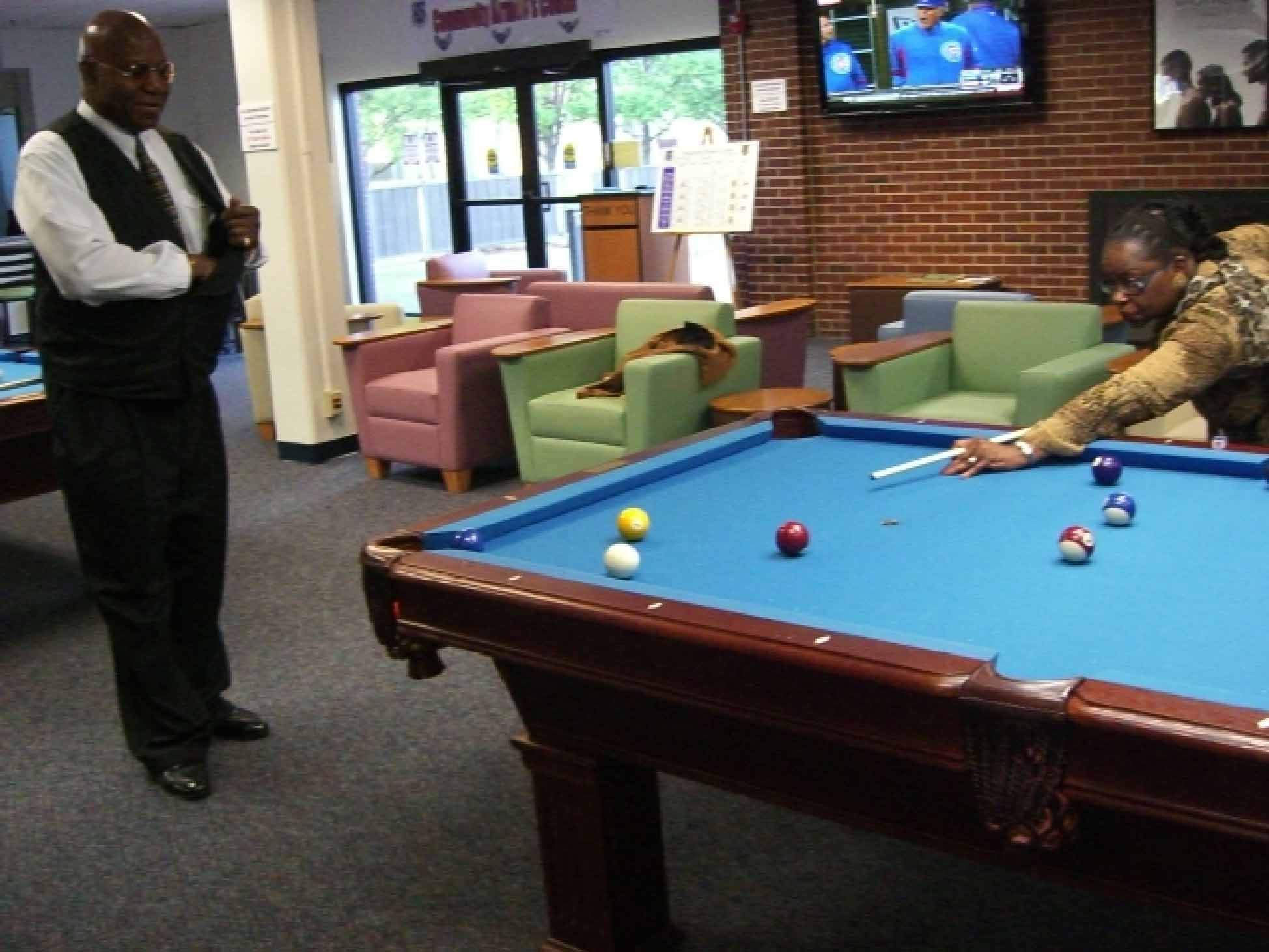 Mr. Brown oversees the successful shot on the 2Ball made by Ms. Gwendolyn Hall, a new student at the Andrews AFB Billiards Workshop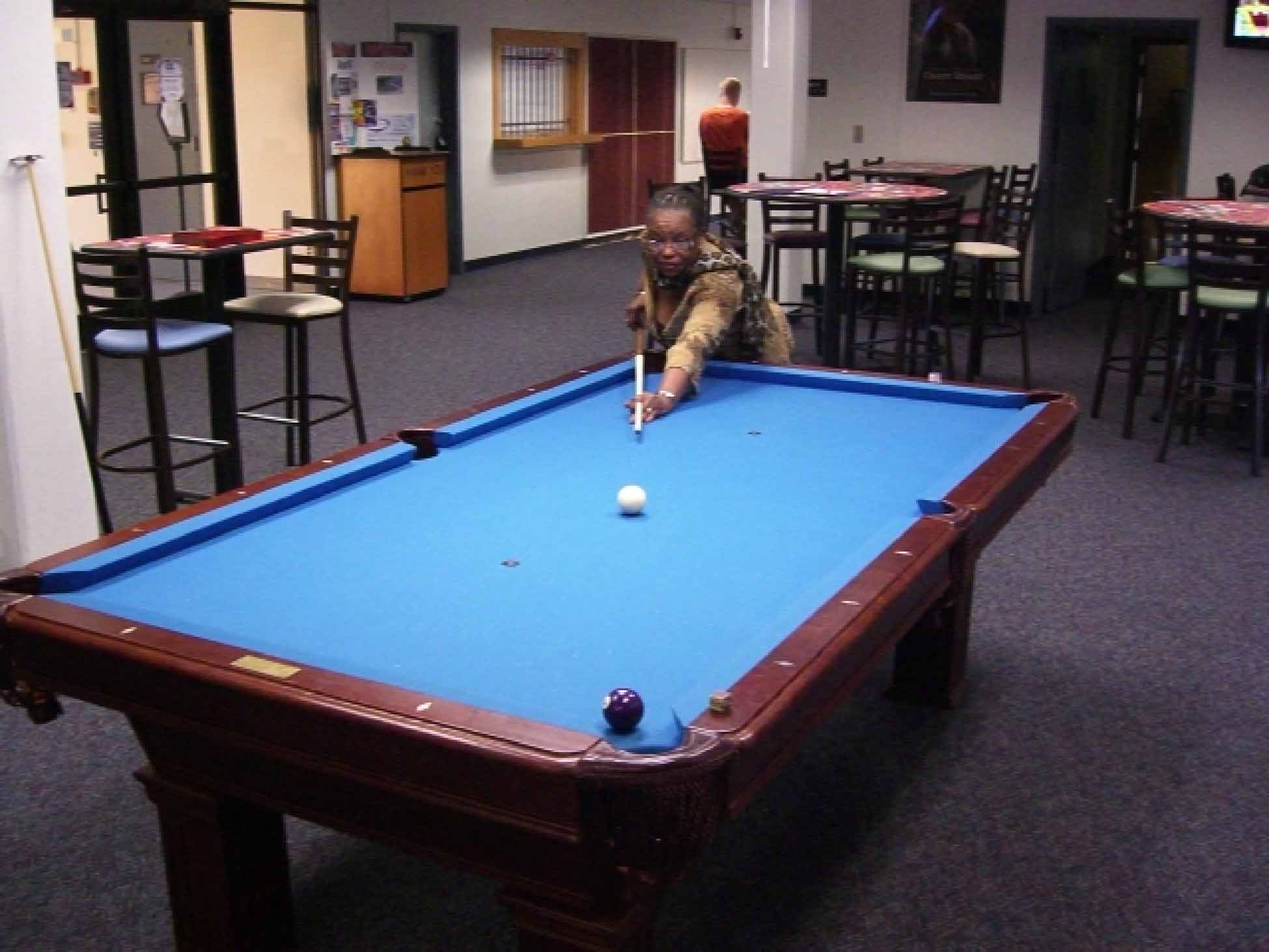 Ms. Hall Strokes a corner pocket shot above.  "This Workshop was EXCELLENT and I really liked Mr. Brown's demonstration and application by the students" said Ms. Hall. "He provided an instructional DVD which really reinforced the basic fundamentals"; "I would recommend him to anyone seeking top quality professional instruction" she also said.
Mr. James Goodine Sr. a student at the Andrews AFB Billiards workshop, carefully and methodically runs the table as he follow-throughs on the stroke. "Mr. Brown was well prepared for the workshop and he was gracious in answering all questions"; "The workshop was OUTSTANDING" said Mr. Goodine.
Mr. Brown as a Tournament Director, is collaborating with Mr. John Wasserman, the Community Airmen's Center Director,  and his Deputy "Mickey" to expand  the Andrews AFB Billiard Program to host Regional Tournaments and Workshops for all Department of Defense members working in the National Capital Region.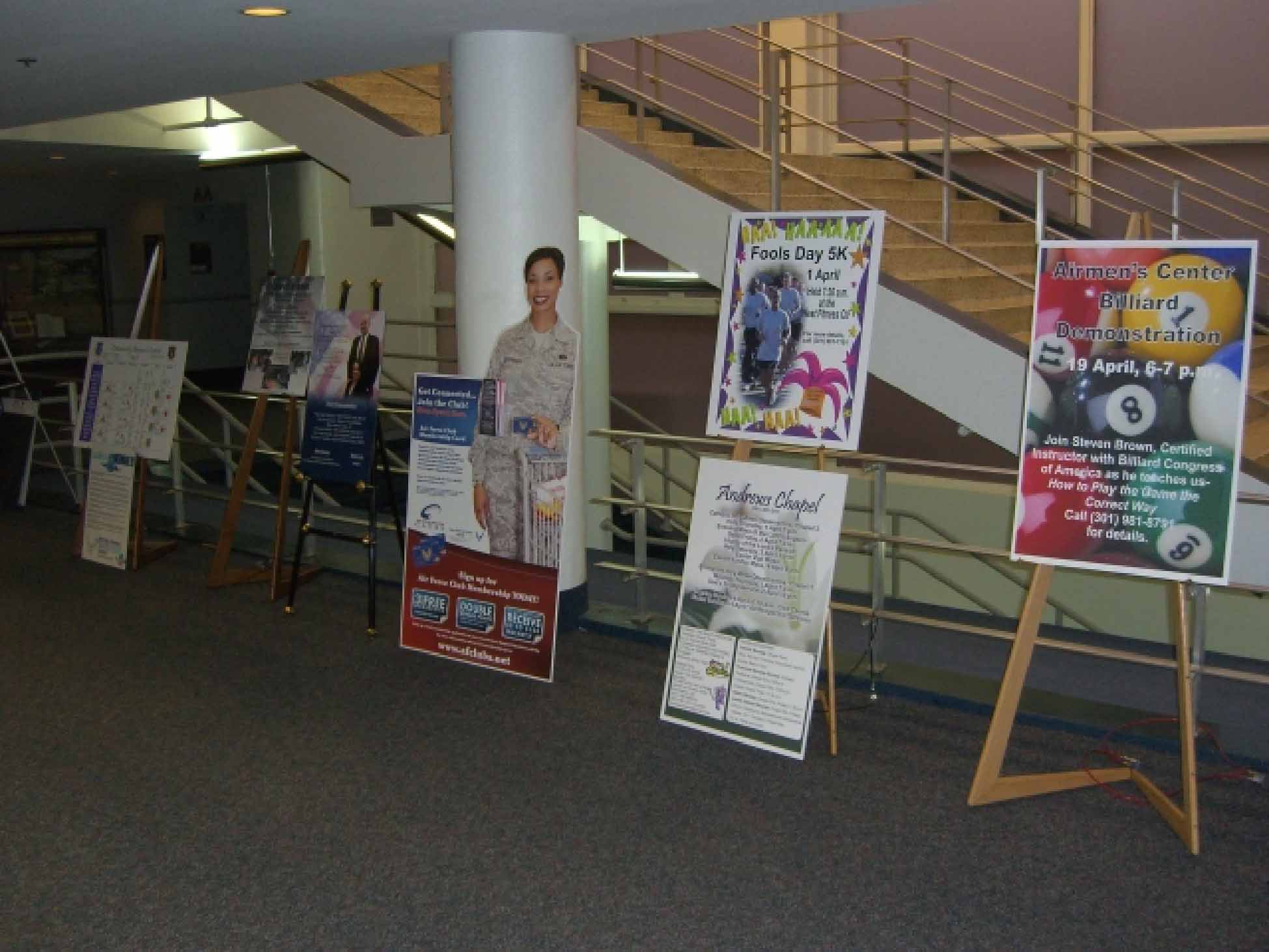 "Getting the word out", is essential to Military Operations. Pictured above are posters of various Base activities in one of main building lobbies, located on Command Drive of Andrews Air Force Base.