US Billiard Qualifier in Houston Texas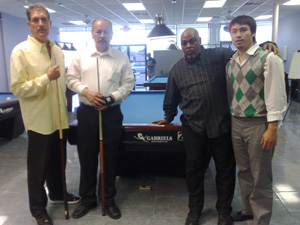 US Billiards Regional Qualifier on Jan 15 & 16.We started our tournament with 7 players round robin in the preliminary round and no one went undefeated. With 5 wins and 1 loss Juan Sauz come in 1St place. Three players tied with 4 wins and 2 loses with Jose Mario Juarez at 2nd with 97 total point, Lan Vo come in 3rd with 96 total point, Ellis Lawrence come in 4th with 92 total points. Vinh Trieu come in 5th, Kiet Nguyen come in 6th, and Loc than come in 7th.
The top four played Final Round on Saturday 16, and once again Juan Sauz was the TOP player, Jose Mario Juarez come in 2nd, Ellis Lawrence 3rd, and Lan Vo 4th.
We completed the Regional Qualifier at US Billiards in a good note and we still have a lot to learn. On behave of Bao Cao and the US Billiards, I would like to Thanks all players who come far away and make this Qualifier possible, and Jim Shovak and Paul Frankel for there guidance's.