America Reclaim Mosconi Cup
2th December
America Reclaim Mosconi Cup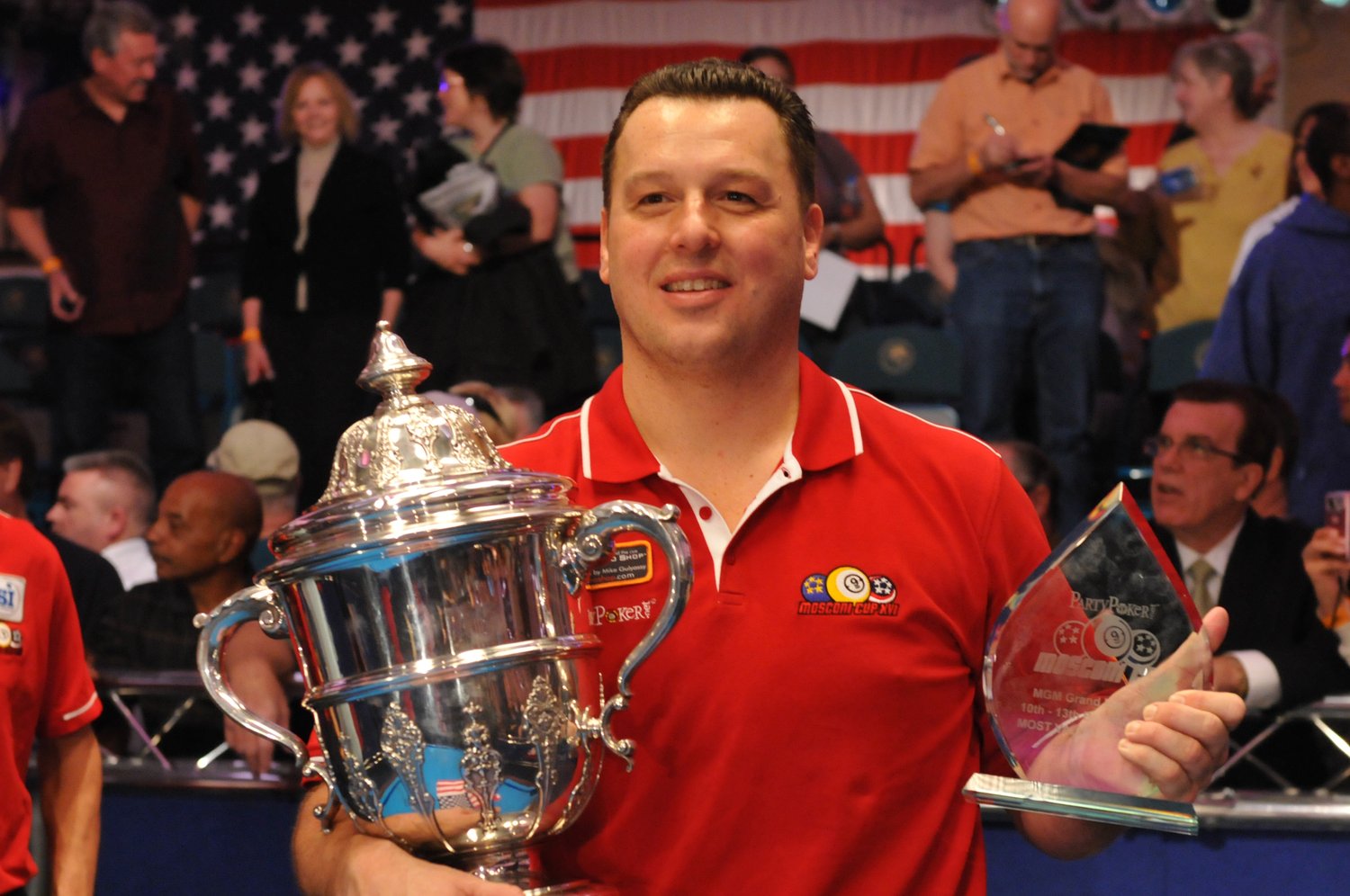 Hatch MVP in Storming Sunday
Europe 7  –  11 USA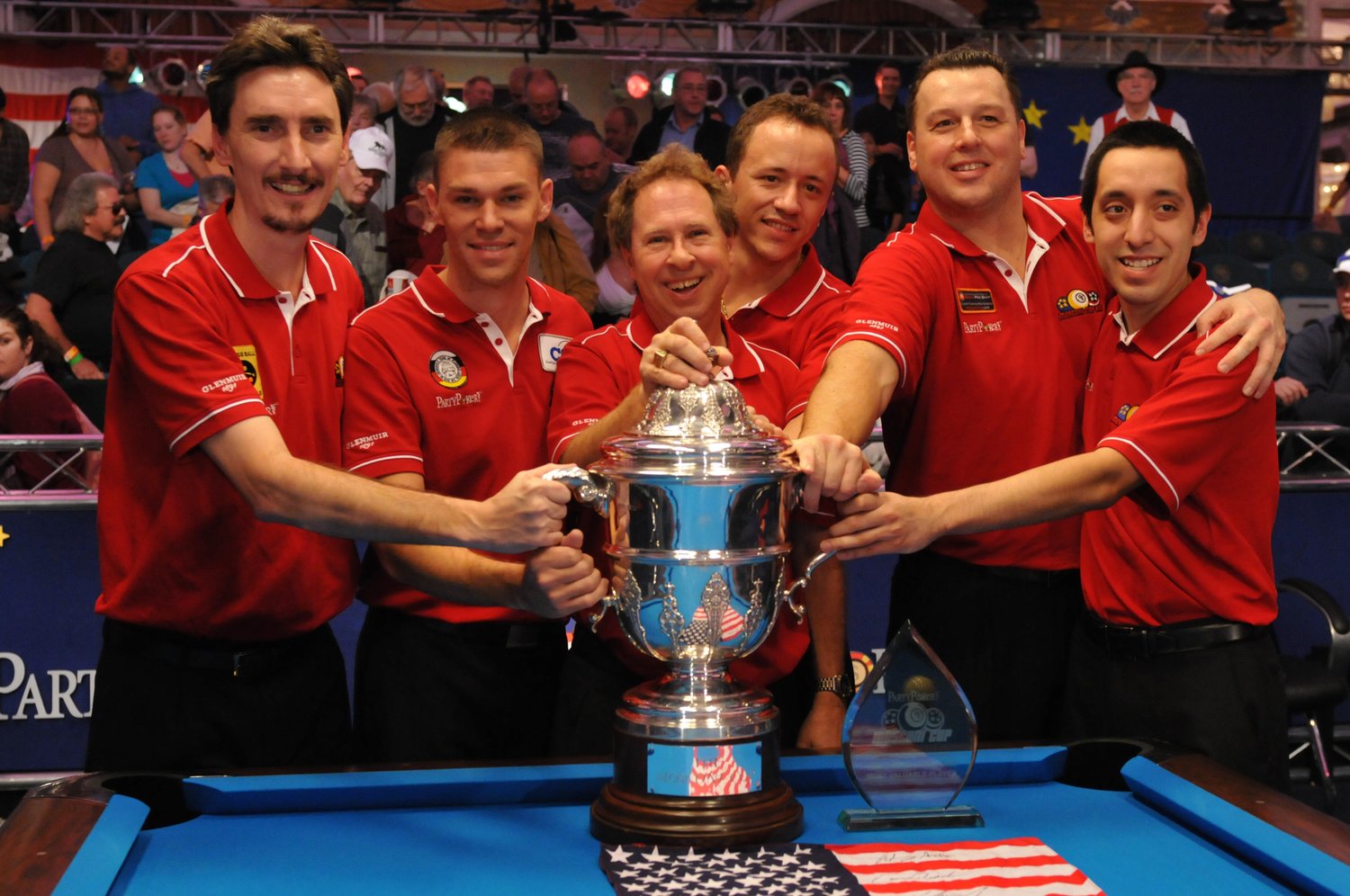 TEAM USA have won the PartyPoker.net Mosconi Cup outright for the first time since 2005 as they took the required two points on Sunday to defeat defending champions Europe by a four point margin.
A win for Dennis Hatch, who took 'Most Valuable Player' honours as the winning team's biggest point scorer, took the team to the hill and then Shane Van Boening snatched the trophy clincher as he defeated Ralf Souquet.
It was a proud moment for American captain Nick Varner after last year's disastrous trip to Malta; "This has been the best five days of my life and they all just played so well and I'm so proud of them," he said.
"I feel really good and I think I'm going to be like Dennis and probably start crying. The whole team – Dennis, Johnny, Corey, Oscar and Shane – have played so well and I am so happy."
Making his Mosconi Cup debut, Buffalo-based Hatch was the star of the show throughout as his ebullient presence from start to finish as well as his outstanding play, drove his side on.
Clutching his glass MVP Award, a tearful Hatch said, "I can't explain how I feel; this is the best moment of my life.
"I want to thank all the fans for being here and if it was not for those guys we wouldn't have won. It's the best feeling I've ever had and this team is just amazing.
"Nothing can compare to this. I'm already thinking about the Turning Stone Classic which I have to play in three days but I won't care if I win or lose because it won't be as good as this. How can it compare to this?" he added.
For Europe it was a tough defeat after two consecutive victories; "We came here very motivated but from day one we felt we were swimming upstream," said Alex Lely.
"Today we got going but hats off the Americans, they played really well. Oscar and Dennis played really strong and the old schoolers did well and they deserved it.
"But I'm proud of my team. We've been swimming upstream and we had to fight for it and it didn't happen for us. But hanging around these guys is great and a lot of fun and we will be back next year in Europe."
Trailing 9-5 at the start of the day, Europe needed the biggest comeback in Mosconi Cup history to retain the trophy and Ralf Souquet was the reliable choice for skipper Alex Lely and he delivered a solid performance to defeat Shane Van Boening by 6-3.
Van Boening hasn't been at the top of his game at this year's event and Souquet had a little bit too much in all departments. He ended the match with a confident 3/9 combination to put his side within three of the Americans.
"It was very important for us to win. We were down 9-5 and with the US only two games away from victory so we went into today as playing a regular tournament," said Souquet.
"Even though it's still a double elimination where we can lose once, we want to win every match.
"The first one was very important and I'm really looking forward to every match. But we have to take it one step at a time and that was only the first step."
People's Champion Dennis Hatch, who was selected by a fan vote, took America to the brink of Mosconi Cup glory as he pounded Niels Feijen 6-0 to take the score 10-6.
As ever, Hatch was fired up as he strode into the arena and his aggressive play was too much for the Dutchman who suffered the first whitewash of the competition and his second reverse to the Hatchetman in two days.
"I've lived for this moment all my life. It's all about enjoying it while you're there, having fun and living the moment," said Hatch.
"No words can say how proud I am to win for my fans, my family and myself. It's just the best environment ever and the best player format I've seen in my life and I'm loving it.
"We couldn't have a better story for me to beat Niels 6-0 and then Johnny to beat Thorsten to win the cup."
It was not to be though as Thorsten Hohmann played a blinder as he upset Archer 6-1 to keep the Euro comeback dream alive. The American, who was undefeated up to this point, succumbed to Hohmann's doggedness as he played to keep his team in the competition.
That left it to Shane Van Boening to win his first Mosconi Cup in three attempts, as he reversed his earlier defeat to Ralf Souquet with a historic 6-2 victory.
'This is the third year I have been in it and I've lost the last two so there was no way I wanted to lose again," said Van Boening.
"Before that match with Ralf started I was thinking 'how the hell did he beat me?' so I said to a friend that he is never going to beat me again.
"He had my number in the first match and I couldn't let him beat me again so I just put him away. I played perfectly in that match and didn't make a single mistake."
Making a record-equalling 13th appearance in the competition, veteran Johnny Archer put the disappointments of '08 behind him, and delivered a series of outstanding performances to help his team over the line
"It's easy to say we've had a good time when you've won but the whole experience has been fantastic," said Archer.
"Losing the last two years wasn't an inspiration but we really wanted to redeem ourselves but I was just so excited to be on the first team without any negativity."
The Scores
Ralf Souquet 6 – 3 Shane Van Boening
Niels Feijen 0 – 6 Dennis Hatch
Thorsten Hohmann 6 – 1 Johnny Archer
Ralf Souquet 2 – 6 Shane Van Boening
Live in its entirety on Sky Sports in the UK, the PartyPoker.net Mosconi Cup features two five-man teams representing Europe and the USA doing battle in a series of singles and doubles matches.
Luke Riches, Matchroom Sport: luke.riches@matchroom.com, +44 7785 395688
www.matchroompool.com
Notes: Matchroom Sport are one of the world's leading producers of televised sport and are responsible for over 1,100 hours of original programming across a range of nine sports. Based in the UK and chaired by charismatic founder Barry Hearn, the Mosconi Cup is one of a stable of pool events that also includes the World Cup of Pool and the World Pool Masters.
The 2009 Mosconi Cup is sponsored by PartyPoker.net, the world's leading online casino. Tables are supplied by Brunswick Billiards, cloth by Iwan Simonis, Super Aramith balls by Saluc and the Official Cue is Predator.