CSI Brings Together Top U.S. Players to Form New Team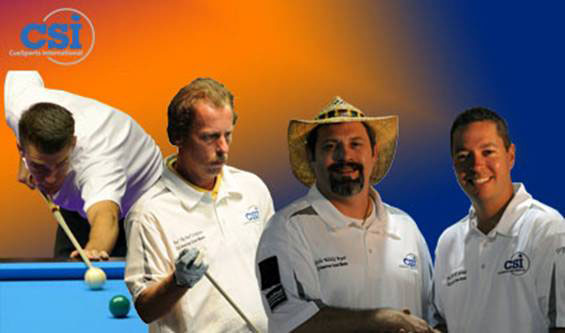 CSI Brings Together Top U.S. Players to Form New Team
(Left to Right: Corey Deuel, Earl Strickland, Charlie Bryant, John Schmidt
Photo Courtesy: CSI)
CSI Brings Together Top U.S. Players to Form New Team
Premier U.S. pool and billiards organization CueSports International (CSI) and innovative Legends and Champions producer Mark Cantrill are pleased and proud to announce Team CSI – American Grand Masters.
Team CSI – American Grand Masters is a collective of highly accomplished and well regarded U.S. players working together with CSI and Cantrill to promote the game via exhibitions and group instructions across the country. Additionally the team will promote CueSports International along with their individual sponsors at tours and tournaments. Cantrill will act as the team's manager.
The 2009-2010 team members are: BCA Hall of Fame inductee, 13 year U.S. Mosconi Cup Team member and legend Earl "The Pearl" Strickland, #7 U.S. ranked player and two time Houston Open winner Charlie "Hillbilly" Bryant, # 6 ranked U.S. player, 2006 U.S Open winner and 2009 Derby City Classis One Pocket winner John "Mr. 400″ Schmidt and current #1 U.S. ranked player Corey Deuel who has served on the U.S Mosconi Cup Team 5 times, won the U.S. Open in 2001 and is one of the most gifted pool stars on tour.
In addition to CueSports International's sponsorship; Earl Strickland is sponsored by Mike Gulyassy Custom Cues, Charlie Bryant is sponsored by Diamond Billiard Products and Inside Pool Magazine, John Schmidt is sponsored by OB Cues and Diamond Billiard Products and Corey Deuel is sponsored by the Seminole Tribe of Florida and Diamond Billiard Products.
Each player was thoughtfully selected by Mark Griffin, CEO of CSI, and Cantrill for each player's accomplishments, contribution to the game and desire to promote the sport. In addition to performing exhibitions and pool schools, members of Team CSI will work together to raise awareness about the sport to a more general public.
"Mark Griffin and I had the same idea and concept for some time now and finally decided we needed to join forces to make this concept become a reality. I feel honored to be brought on board to manage the American Grand Masters team and to work with CueSports International. Mark Griffin does so much for pool and billiards, for both professionals and amateurs alike. Knowing this team has the backing from someone who has so much dedication and willingness to work hard to improve the sport and having the infrastructure of his team at CSI makes me excited at the tremendous possibilities the future of this team holds," said Cantrill.
Team CSI – American Grand Masters is part of a larger concept with more details to be announced shortly. In addition to CSI, the team is supported by The Action Report (TAR) and BreakRAK. Currently under development is the Team CSI section of the CueSports International web site, www.playcsipool.com. Anticipated launch of the site section will be by the 2009 U.S. Open 9-Ball Championship. For more information about Team CSI – American Grand Masters, to schedule an exhibition, group lesson or to inquire about participating as a sponsor partner contact Mark Cantrill at (480) 612-7732.
CueSports International is dedicated to creating more choices for all players. CSI is the parent company of the BCA Pool League, the National Championship Series (NCS), and the USA Pool League. CSI also produces independent events such as the U.S. Bar Table Championships, the Jay Swanson Memorial and the U.S. Open 10-Ball Championship. Visit www.playcsipool.com, www.playbca.com and www.playusapool.com for more information about CSI and its divisions.