Chicago,New York City, Philadelphia Qualifier Winners for the Predator 69th World Straight Pool Championship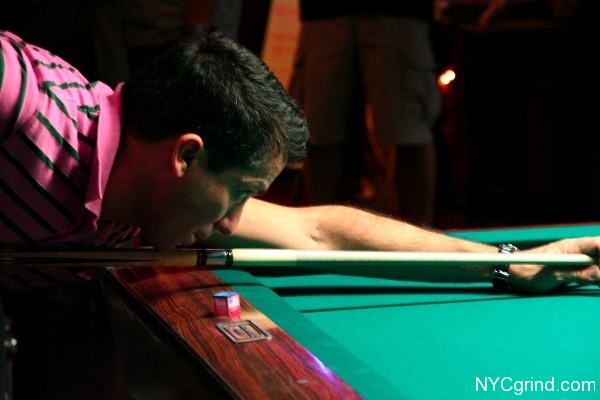 Israel's Zion Zvi will be an interesting addition to the 2009 Predator World 14.1 Championship
Parsippany, New Jersey- Qualifier winners from Chicago, Philadelphia, and New York City will be heading to Parsippany, New Jersey for the 69th Annual Predator World 14.1 Championship presented by Ozone Billiards. Bob Chamberlain, Michael Frank, Jeffrey Mohl, Richard Michalec, Jonathan Smith, and Jude Rosenstock will go up against the world's best 14.1ers! The Dragon Promotions revived event is in its 4th consecutive year alive with help of industry giants such as Predator, Ozone Billiards, Brunswick Billiards, Simonis Cloth, Master Chalk, Aramith Balls, Accu-Stats and the Laser Rack. Comet Billiards will host this year's event which will start play on August 24, 2009 and end August 29. The greatest straight pool players from around the world will arrive on USA's east coast again to New Jersey, and attend this prestigious event to play for the coveted title of World Straight Pool Champion.
The first qualifier was held at Drexeline Billiards near Philadelphia and owned by 14.1 veteran Bob Maidhof. Bob Chamberlain of Virginia went undefeated for his spot while Israel's Zion Zvi went through the loser's side for his spot. But due to the fact he was already invited and thus ineligible for the spot, Zvi had to give the spot to runner-up in 3rd Maryland's Dr.Michael Frank . But in a gracious move, Frank had decided to sponsor Zvi himself into the main event and paid his entry! Very classy.
The next event in Chicago's Red Shoe Billiards owned by John Lavin, saw St.Louis's Lou Figueroa go undefeated to win the qualifier, but never intended to win. Because of a date conflict, Lou graciously passed over his spot and the top two recipients Jeff Mohl and Rick Michalec will be going to the 14.1 World Tournament.
And finally New York City, home to the most straight pool players in the world, held its event at Amsterdam Billiard Club owned by Greg Hunt. Veteran player Jonathan Smith, who had played in all previous World 14.1 Championship since its revival, went undefeated for his spot. Jude Rosenstock won the other spot from the loser's side and will be playing in his first World 14.1 Championship.
There will be one last qualifier and opportunity to play in this historic event. The final qualifier will be August 22 at Comet Billiards, which is the same venue as the main event The World 14.1 Championship. Players are to be signed up by 11am.
The main event August 24-29 format will be 48 players round robin race to 100 the first 3 days. Half the field will be cut and the final 24 will play a double elimination board race to 150, with the #1 seed in each group from round robin getting a bye first round. 16 players will make it out of the double elimination board and advance to the final stage single elimination race to 200 points.
This year marks the 69th World Tournament for 14.1, and stars such as Thorsten Hohmann, Oliver Ortmann, Johnny Archer, Tony Robles, and Mika Immonen are just a few of the powerful list of world beaters who will come to play in the greatest straight pool tournament in the world.
Tickets are on sale now at www.dragonpromotions.com or goto direct payment link at http://www.dragonpromotions.com/tickets.html
Per day tickets can be bought at the door during the event.
2009 Predator World 14.1 Championship Player List:
Thorsten Hohmann Fulda, GER
Oliver Ortmann GER
Max Eberle Las Vegas NV USA
Gabe Owen Tulsa,OK USA
Ed Deska Baltimore MD USA
Bobby Hunter Chicago, IL USA
Robert Madenjian Connecticut , USA
Allen Hopkins NJ USA
Dan Heidrich Rochester, NY USA
Yu Ram Cha Incheon, KOR
Mika Immonen Helsinki,FIN
Danny Harriman Springfield, MS USA
Grady Mathews Columbia, SC USA
Danny Barouty Queens ,NY USA
Vegar Christiansen Oslo,NOR
Dave Grossman Jacksonville, FL USA
Jonni Fulcher SCO
Radoslaw Babica Warsaw, POL
Konstantin Stepanov Moscow,RUS
Corey Deuel Tampa, FL USA
Johnny Archer Atlanta, GA USA
Shane Van Boening Sioux Falls, SD USA
Mike Davis Washington DC, USA
Charlie Williams Orlando FL USA
Zaid Thweib JOR
Tony Robles Queens, NY USA
Dan Wallace San Diego, CA USA
Stefan Cohen Paris,FRA
Gerda Hofstatter AUT
John Schmidt FL USA
Earl Herring USA
Stevie Moore SC USA
Carlos Viera USA
Ralf Eckert GER
Mark Vidal SPN
Jeff Mohl Chicago, Illinois USA
Rick Michalec Chicago, Illinois USA
Zion Zvi ISR
Michael Frank Maryland, USA
NJ qualifier
NJ qualifier
Jude Rosenstock New York City USA
Jonathan Smith New York City USA
Steve Lipsky NY, USA
Dan Louie Seattle, WA USA
Mark Snodgrass USA
DP Wild Card
DP WIld Card
August 28, the night before the finals, Comet Billiards will host a special sponsor / pro team match tournament for the patron sponsors of the event. Billiard aficionado Stu Mattana of NYC and long time billiard supporter Harold Siegel of NYC are two of this year's generous patrons of the Predator World 14.1 Championship. Their contributions are helping keeping the event going. Dragon Promotions encourages others to come on board to join as a sponsor and can be reached at worldstraightpoolchampionships@gmail.com or call 1-407-782-4978
The 2009 Predator World Straight Pool Championship is proudly sponsored by Predator Cues, Comet Billiards, Brunswick Billiards, Simonis Cloth, Ozone Billiards, Laser Rack, Master Chalk and patron sponsors Stu Mattana and Harold Siegel of Excelsior Graphics. For more information on player registration, sponsorship, or if you would like to submit a comment, please email worldstraightpoolchampionships@gmail.com or contact Dragon Promotions at 1-407-782-4978.
Ozone Billiards has been providing pool players with top quality billiard products for more than eight years. Its commitment to customer service has helped Ozone Billiards grow to be one of the largest retailers of billiard supplies in the United States. For more information about Ozone Billiards and its product lines, visit www.ozonebilliards.com
Predator Group, an international billiards industry leader, is focused on bringing constant innovation and game-improving equipment to billiards players worldwide. Headquartered in Jacksonville, Florida, USA, Predator Group's core brands include Predator Cues – high-end (professional level) cues with revolutionary technology to enhance performance, Poison Billiards – recreational cues with cutting-edge designs and Predator engineering for best-in-class playability, and Uni-Loc® – precision billiards equipment manufacturer. For more information regarding Predator Group's products, visit www.predatorgroup.com.