Archer Super at Straight Pool in Mezz Classic 14.1
Archer Super at Straight Pool in Mezz Classic 14.1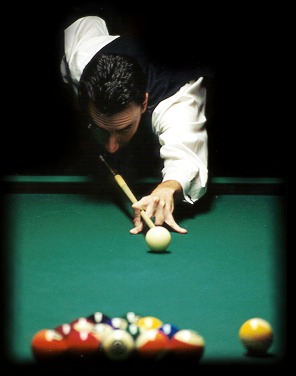 Archer raised a few eyebrows with his stellar 14.1 victories at the Mezz Classic
Orlando, Florida- Johnny "Scorpion" Archer showed the world that he is not only a master of 9-Ball and 10-Ball, but he can beat the best of them at 14.1. Archer cruised relatively easily to the finish line unscathed and demolished Mika Immonen in the finals to capture the Mezz Classic 14.1 title. The Mezz Classic features both 10-Ball and 14.1 titles. Pros and amateurs from around the country and the world will come to Orlando August 5-9,2009 for all the events taking place at Corner Pocket Billiards including the Ozone Billiards US Amateur Open. The Dragon Promotions productions were presented by sponsors Ozone Billiards, Mezz Cues, Brunswick Billiards, Simonis Cloth, Aramith Balls, Master Chalk, Laser Rack, Gambler, On the Snap Cue Repair, and House of Billiards.
"This is the first straight pool title I've won since 1993, so it's been quite awhile since no one can remember that event. It's really meaningful to me to win this because it shows I can play other games well,too and I'm not stung by the Hall of Fame jinx," said Archer in his finals speech. Archer was referring to the past Hall of Famers who weren't able to win titles after their induction. Archer also won the Gem City Classic a few weeks earlier.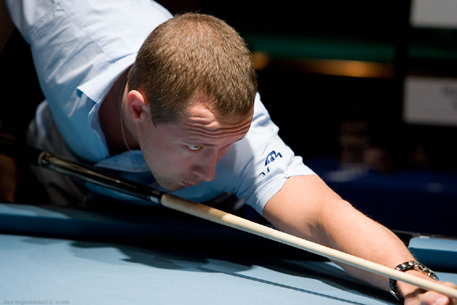 Immonen took a loss to Archer on the winner's side in a lopsided match before Mika eliminated pre-event favorite Thorsten Hohmann in a close 150-114 match, keeping Hohmann at 3rd and from defending his title. This gave Mika a second chance to avenge himself. Immonen also finished 2nd in last year's 14.1 event. Archer had a nailbiting 150-132 match with 14.1 newbie Shane Van Boening who ended in a very respectable 3rd place tie with Hohmann.
Though the paper favorite, Immonen was not able to contain Archer in either attempts
In the Immonen/Archer showdown #2, Immonen desired to fire back a closer match. Unfortunately, it was not to be as Archer took early control of the match and never relinquished his lead. Archer dominated the race with a final 200-80 score and won his first 14.1 title in 16 years.
The Mezz Classic is sponsored by Mezz Cues Japan and Mezz Cues USA.  World Champion and current #1 Mika Immonen uses Mezz in all his matches and his exclusive Mika Mezz Line of cues can be purchased only at www.ozonebilliards.com
Ozone Billiards has been providing pool players with top quality billiard products for more than eight years. Its commitment to customer service has helped Ozone Billiards grow to be one of the largest retailers of billiard supplies in the United States. For more information about Ozone Billiards and its product lines, visit www.ozonebilliards.com
Miki Co., Ltd. has been making pool, snooker and carom cues since 1960 from their very own factory in Japan. The final product today is the testament of 50 years in the art of cue making.  It's no surprise that Mezz Cues is the #1 brand in Asia. Mezz is happy to be able to offer the Mezz line of products in the US, Europe, and Asia.  Mezz translates into "something that is loved and  treasured", and that is exactly what every person that owns a Mezz feels.  Mezz Cues are used by a variety of international professionals such as World Champion Mika Immonen of Finland, World Champion Kunihiko Takahashi of Japan, World Champion Alex Pagulayan, European Champion Marcus Chamat of Sweden, and American pros Jennifer Barretta, Hunter Lombardo, Sarah Rousey, and Caroline Pao.  For the latest news and information of Mezz products and players, visit www.miki-mezz.com and  www.mezzusa.com