2009 BEF Junior National Artistic Pool Champions Emerge in Illinois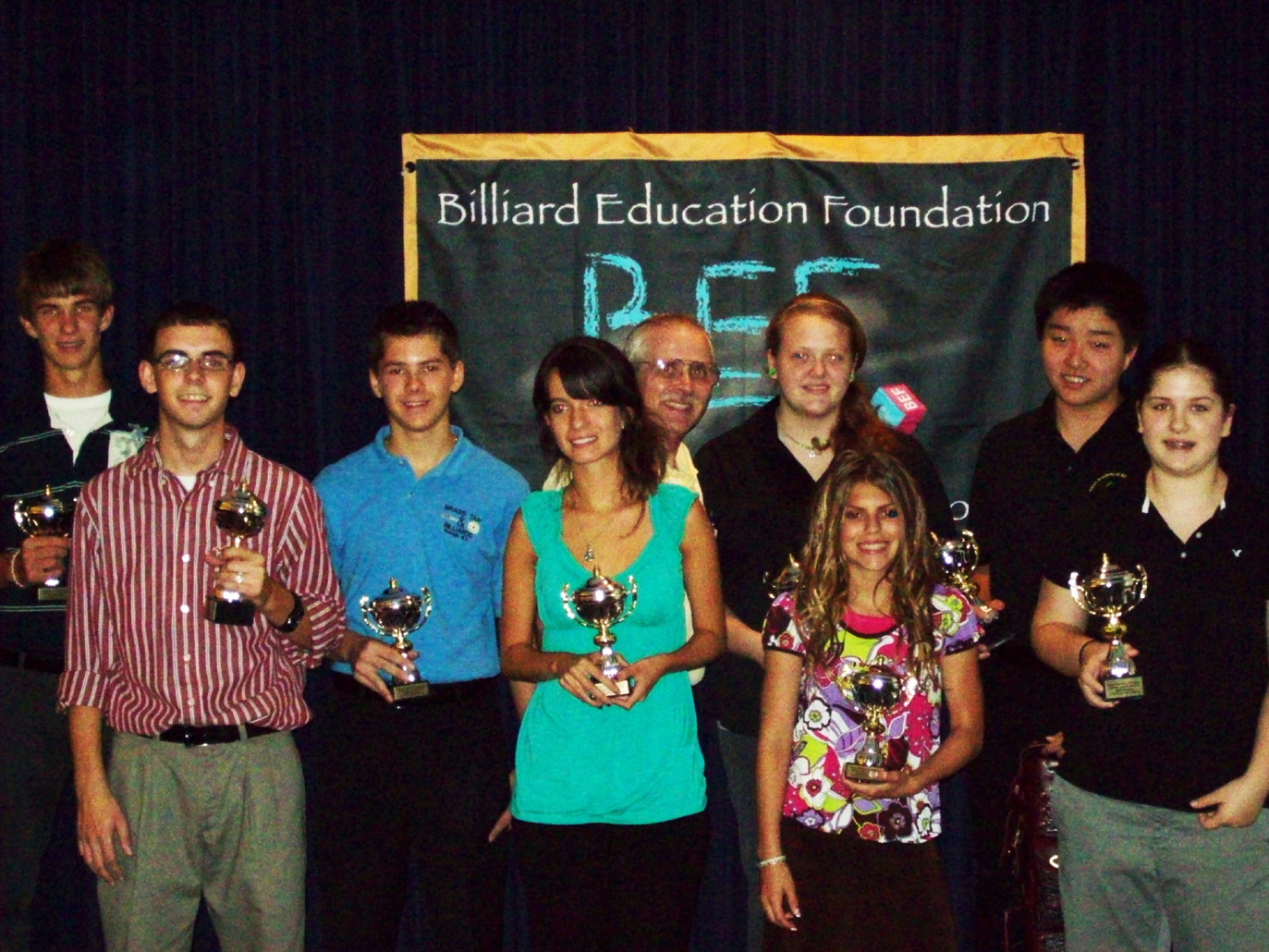 Photo names: (L to R)Luke Cason, Joshua Newman, Jackson Jeffreys, Liz Lovely, Tom "Dr Cue" Rossman, Chelsea Hardwick, Taylor Reynolds, Kevin Sun, Briana Miller
2009 BEF Junior National Artistic Pool Champions Emerge in Illinois
The 17th Annual Billiard Education Foundation (BEF) Junior National Artistic Pool competition took place July 24-25 concurrently with the BEF Junior National 9-Ball Championships, held at Illinois State University. This special event gave the 92 players from all four divisions of the main event an opportunity to take the artistic challenge.
World Trick Shot Champion, entertainer and instructor, Tom "Dr. Cue" Rossman, with his wife Marty "Ms. Cue," facilitate and direct this annual event so that youth can demonstrate their special cue sport skills.
Congratulations to the following contestants:
19 & Under Boys' Division:
1st Joshua Newman Bessemer City, NC
2nd Luke Cason Springfield, OH
19 & Under Girls' Division:
1st Chelsea Hardwick Evansville, IN
2nd Liz Lovely Centerville, OH
14 & Under Boys' Division:
1st Kevin Sun Harvard, MA
2nd Jackson Jeffreys Raleigh, NC
14 & Under Girls' Division:
1st Briana Miller Allentown, PA
2nd Taylor Reynolds Waterville, ME
The Billiard Education Foundation is a 501 (c) (3) non-profit charitable organization committed to furthering the standard of excellence and leadership within the billiard community by engaging in activities related to the education and cultural advancement of tomorrow's leaders.
For more information about the BEF, please visit www.BilliardEducation.org or contact Laura Smith at 303.926.1039 or e-mail LauraSmith@BilliardEducation.org.