Miguel Torres is victorious at Carom Cafe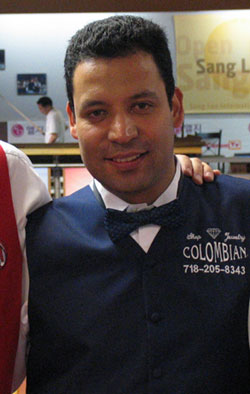 Miguel Torres is victorious at Carom Cafe
Carom Café hosted a wonderful Open tournament this past weekend which was a 15-player round-robin event. That means that every player gets to play all the other players once for a total of 14 matches for each player over a 3-day period. It was a lot of billiards.
The event also featured a guest from Denmark, Dion Nelin, a world-class player who was the strong favorite to win the event, with an approximate overall average of about 1.500.
Also in the field were top U.S. players: Hugo Patino the current USBA Champion, Miguel Torres (2008 Champion), Mazin Shooni (2006 Champion), Sonny Cho (2005 Champion), Michael Kang, Francisco Parra, Young Gull Lee and several strong local players.
Some people were predicting that Dion Nelin would go undefeated. But that was not to be the case. Sang Jin Lee, a local player who recently won a B+ tournament at Carom Café, gave Dion a hard time and almost pulled off a big upset, but Dion finished strong and came out on top. Francisco Parra was the first player to beat Dion. Then, near the end of the tournament, Michael Kang also managed to squeeze out a tight victory and hand Dion his 2nd loss.
Meanwhile, Miguel Torres was beating everybody. Then Miguel finally lost his first match to Sonny Cho. At the end, it was one match between Miguel Torres and Dion Nelin. Dion needed to beat Miguel and then also beat him again in a playoff match to win the tournament, but it was not to be. Miguel beat Dion in a close match 30-27 with a beautiful force-follow shot for the last point to win the tournament.
Congratulations to Miguel Torres!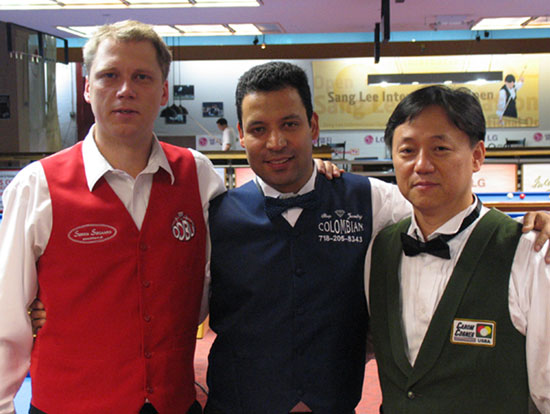 Dion Nelin from Denmark (2nd), Miguel Torres (1st)
and Michael Kang (3rd