Hugo Patino Wins at Cue and Cushion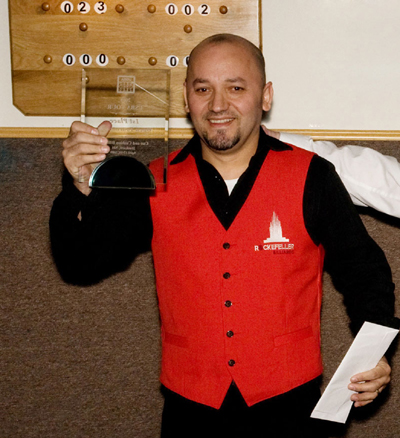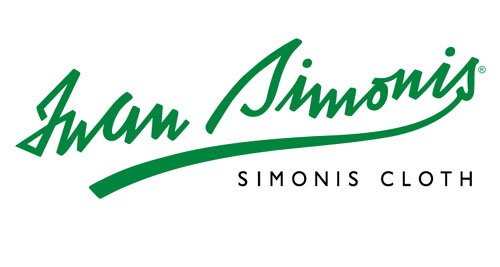 The first stop of the 2009 USBA Tour was held at Cue and Cushion Billiard Lounge in Hooksett, NH on April 17-19, 2009. Four of the country's top players participated and were the clear favorites in this 11 player round robin to 25 points. Room owner Mazin Shooni, 2006 US Champion, had his 2 beautiful Chevillotte tables recently recovered with Simonis 300 rapide cloth. The tables were long and very slippery. Competing along with Mazin was Hugo Patino (2003, 2009 US Champion), Sonny Cho (2005 US Champion), Michael Kang (Carom Café owner and top US player), Jim Shovak (USBA Secretary/Treasurer), Bob Page from Massachusetts, Juan Elizalde from Dallas, Texas, Leonard Collibee from Massachusetts, Rick Kirk from Kalamazoo, Michigan, Andrew Janquitto from Maryland and Steve Brodie from Connecticut.
Tournament highlights: Sonny Cho scores 25 points in 9 innings for the tournament best game. Bob Page upsets Michael Kang 25-14 in 23 innings. Electronic scoreboards were used which the spectators absolutely loved. They were able to keep track of the score as well as the innings and a 1 minute time clock per shot was used with 2 extensions per game. This kept the games moving along. Players who were not playing at the time were placed in the schedule to run the scoreboards.
Going into the final match, both Hugo Patino and Mazin Shooni both had records of 8-1. The winner would determine the tournament champion. Jim Shovak refereed the final match. Mazin took a 10-5 lead, looking strong, but Hugo started scoring points and leaving tough. With the score at 17-12 in favor of Patino, Hugo showed why he is the current US Champion by running 8 points and out to win handily, 25-12 in just 14 innings. The crowd cheered and applauded approvingly at Hugo's feat.
The 2nd through 4th place finishers all had records of 8-2 and were determined by total points scored. Sonny Cho came in 2nd, Mazin Shooni came in 3rd and Michael Kang finished 4th. Juan Elizalde edged into 5th place by defeating Jim Shovak 25-22. Bob Page actually had a chance for 4th place after upsetting Michael Kang but lost to Shovak 25-9 and Collibee 25-7, pushing him to 6th place.
After the award ceremony, a raffle was held with 3 billiard cues up for grabs. The first was a Gabriels cue which was won by photographer Steve Booth. Then an Adam RCH-2 cue (generously donated by Adam Cues) was won by Rick Kirk. Finally, a Kilby cue (generously donated by cuemaker Ron Kilby) was won by Juan Elizalde.
PRIZE FUND = $ 7,060.00
1st Place = $ 2,300.00 : Hugo Patino
2nd Place = $ 1,800.00: Sonny Cho
3rd Place = $ 1,500.00: Mazin Shooni
4th Place = $ 1,200.00: Michael Kang
HIGH RUN = $ 130.00: Sonny Cho: 9
BEST GAME = $ 130.00: Sonny Cho: 2.778 average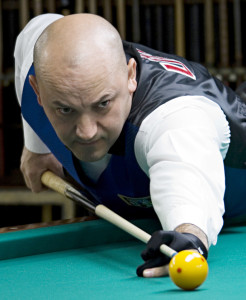 Hugo Patino (1st), Sonny Cho (2nd), Mazin Shooni (3rd), Michael Kang (4th)
Photo by Steve Booth
For more photos of the players and event, click the following link
for photographer Steve Booth's website:
http://onepocket.smugmug.com/gallery/7935476_HaLXY#514967359_SwSED
We would like to thank the following:
-Room owner Mazin Shooni for adding money to the prize fund and generously providing a celebratory banquet for everyone on Sunday.
-Photographer Steve Booth for generously taking pictures of the event.
-Tony Ferrara, Daniel Sousa and Drew Dangelmayer for making sure that the tables and the balls were always clean and ready to go.
-Tony Ferrara for volunteering many times to run the scoreboard.
Sponsors:
-Iwan Simonis
-Aramith
-Adam Cues
-Kilby Cues
Financial Sponsors:
David Levine, Jim Shovak, Bob Jewett, Professor-Q-Ball (Paul Frankel), Creative Billiard Shirts, Michael Kang, Andrew Janquitto, Dean Harrell, Pedro Piedrabuena, Robert Byrne, Tom Resk, Mazin Shooni, Dr.Cue Promotions (Tom Rossman), Bruce Warner, Mike Walo, Jim Watson, Tommy Thomsen, Tom Haskin, Jamil Isreal, Bob Roach, Mike Melloy, Don Sperber, Norm Brust, Ed Friedman and Pat Young.