Registration Now Open 2021 BEF Junior National Championships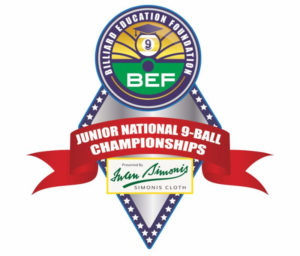 Superior, Colo., April 14, 2021 – The Billiard Education Foundation (BEF) today announced that registration is now open for the 33rd annual BEF Junior National Championships presented by Iwan Simonis will take place at the South Point, Hotel, Casino and Convention Center in Las Vegas, July 27 – 31, alongside the BCA Billiard and Home Leisure Expo.
To register for this year's events please visit BilliardEducation.org or use one of the following links below:
Registration for this year's event will be open from April 14 – June 1, 2021. No late or onsite registrations will be accepted.
Please visit the Billiard Education Foundation's website at BilliardEducation.org to register.
About Billiard Education Foundation
The Billiard Education Foundation (BEF) was formed in 1993 as a 501(c)(3) nonprofit charity committed to promoting a lifelong love of pool and building the next generation of players through youth programs and academic scholarships. The BEF also sanctions Junior State Championships, produces the annual BEF Junior National 9-Ball Championships and qualifies young players each year for the WPA World Junior Championships. Visit
BilliardEducation.org
to learn more about junior programs in your area.