Clifton 9-15-19 9 Ball-Tri-State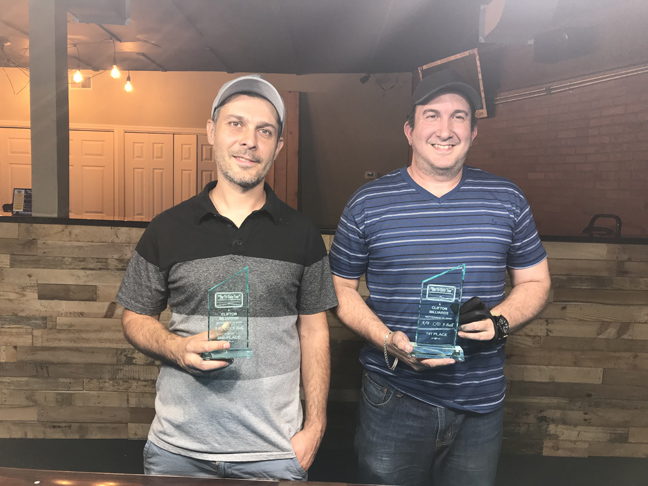 L2R
2nd IIija Trajceski
1st Ricardo Mejia
It was a local players day to shine as Clifton gathered 24 players for Sunday 9 ball Tournament. Ricardo Mejia would end the day defeating IIija Trajceski for the crystal trophy. Ricardo would start his day defeating Kevin Scalzitti 7-4 and then would meet IIija for the first time of the day and would send him to the one loss side 7-4. He would then defeat Luis Jimenez 7-5 and Bob Toomey 8-4 in the hot seat.
Bob Toomey who has steadily been improving his game this past season has continued his climb to the next level. He started off defeated Joe Rubino 6-5,Alfredo Altamirano 6-5, newcomer Jeff Martinez 6-5 and then his closest competitor in the points least this season Mike Strassberg. Bob would send Mike over to the other side with a 6-0 victory. He would then meet Ricardo and move to the one loss side.
IIija Trajceski meanwhile would be on a 4 game streak to get back to the finals but would have to get past Bob Toomey first. IIija's run would not be stopped though and Bob Toomey would end the day in third. IIija Trajceski would choose to face off with Ricardo Mejia for the finals.
Ricardo would jump out ahead due to some missed safeties from IIija but wouldn't stay there long. IIija would start to climb back and would take the lead at 5-4 for the first time and thru smart play hit 7 which would extend the race to 9. Ricardo however would get a chance back in game 6. He would finish off rack 6 and then break and run the 7th. Realizing that he would now need to get to 9 he would break down and lock up the night breaking and running the next two racks closing out the night and securing the first place trophy.
| | | |
| --- | --- | --- |
| Place | Player | Cash |
| 1st Place | Ricardo Mejia | 500 |
| 2nd Place | IIija Trajceski | 250 |
| 3rd Place | Bob Toomey | 175 |
| 4th Place | Teddy LaPadula | 100 |
| 5th/6th Place | Mike Strassberg | 50 |
| 5th/6th Place | Luis Jimenez | 50 |