Memphis APA's 1st annual Shoot for the Cure tournament

Don't Miss Out!!
If you have not registered to play in Memphis APA's  1st annual Shoot for the Cure tournament to benefit St. Jude- get on over to APA Memphis.com and register. This is an 8-ball scotch doubles tournament this year. We have many items that have been donated to help raise funds for St. Jude.
Come on and get in on the fun- St. Jude is our very own backyard, so let's show them how supportive our APA family can be!
Some of the items to be raffled:
JB Case
Cooler
Nintendo Switch
65″  TV (2)
Cut &  Color Gift Certificates
Meucci Cue
(2) 40″; TVs
Cues 1/2 off Pechauer Cue Certificate (up to $1500 cue)
Jacoby Swag Basket
Backdour Steak Dinner for Two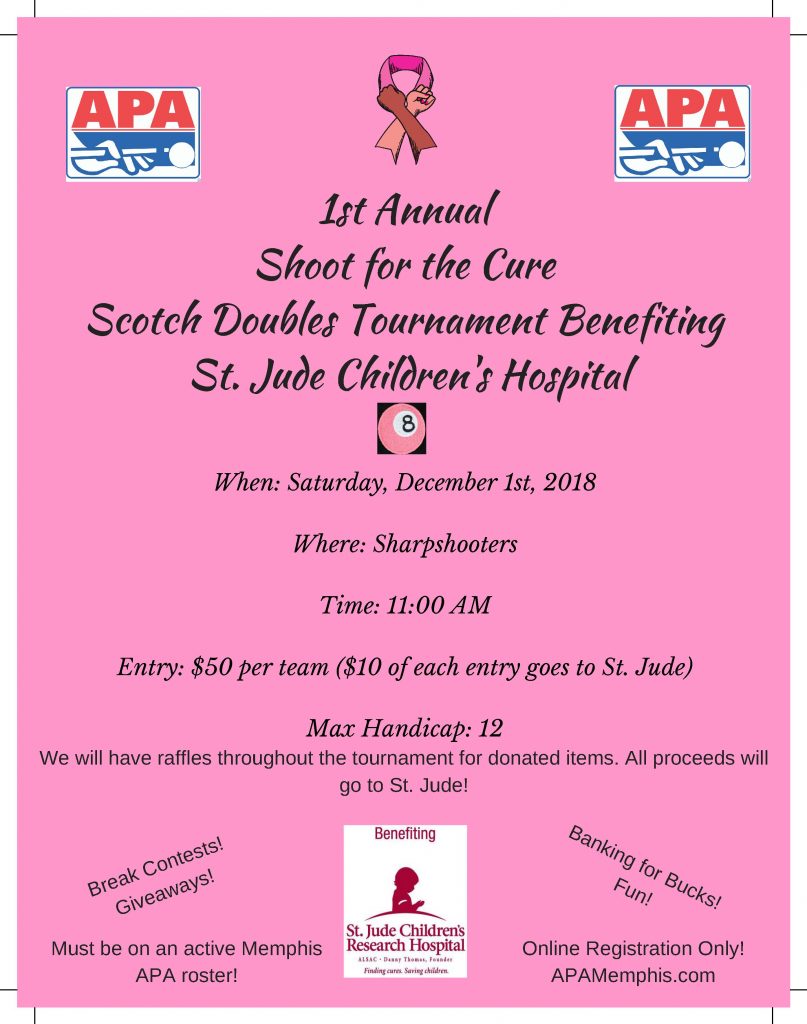 Shoot for the Cure
Memphis APA is proud to be holding our first annual Shoot for the Cure tournament on December 1, 2018. We are in the process of taking donations for raffles and auctions all in the hopes of raising money for St. Jude Children's Research Hospital. If you would like to donate anything for this good cause, please let us know!
Entry fee is $50 per team ($10 of each team entry going to St. Jude). We will have lots of contests going on during the tournament as well as the raffles. Grab a partner and register online at apamemphis.com to reserve your spot. This is only open to the first 32 teams.
When: December 1, 2018
Where: Sharpshooters
Time: 11:00 am
Entry Fee: $50
Max HC: 12    8-ball Format
Open to Memphis APA players on active roster!!
*Please give 24 hour notice if you register and cannot play or else you will be charged the entry fee.