Verhoeven Open 2016 Carom Cafe, NY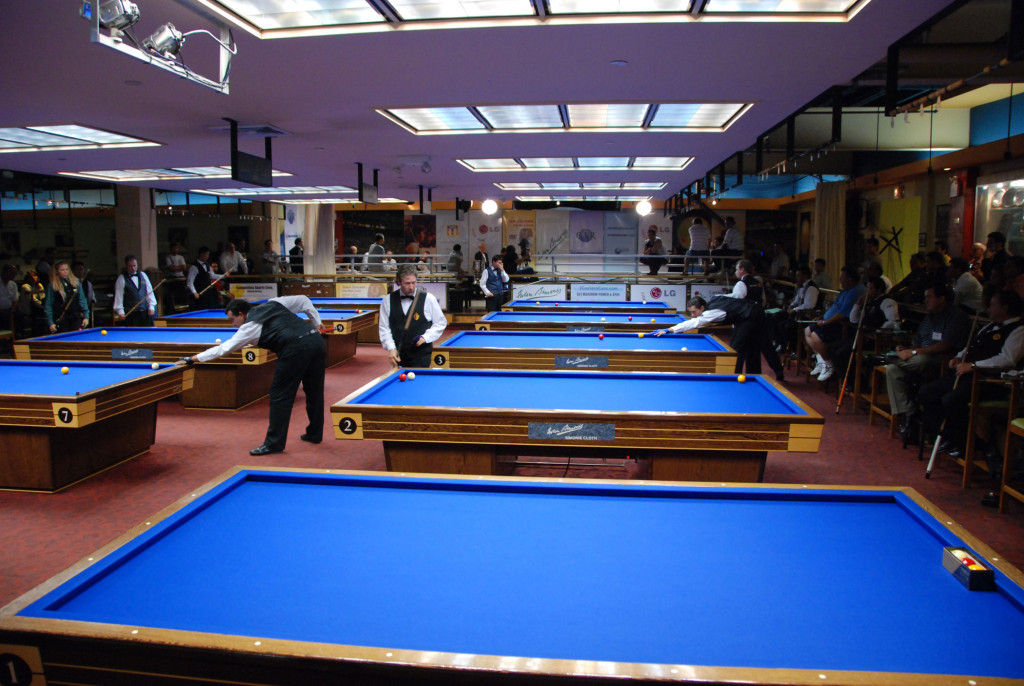 Will update list as new names come on. This will me again one of the exciting matches in 3-Cushion

A Once-in-a-Lifetime Experience:
The Verhoeven Open at Carom Café
by Jack Litewka
 (in Flushing, NY — August 1-6)
If you have never attended the Verhoeven Open international tournament held at Carom Cafe in New York City, a real delight awaits you. (The delight awaits you even if you have – as I have repeatedly – attended before.)
Yes, it's an expense if you don't live in New York City – airfare, hotel, food, etc. – but, if you can afford the trip, when you return home you'll say, "It was worth it – worth every penny."  Some of us have even said, "It's the best money I ever spent."

Why would someone say that?  Let me count the ways"¦
It isn't just a tournament. It's an EXPERIENCE !!! (Read on"¦)
You will see great players from around the world, including the four players ranked 1-4 in the current world ranking.

The seeded players are Blomdahl, Caudron, Jaspers, and Merckx.
The tournament already has commitments from many additional players, including, for example: Tasdemir, Coklu, Bury, Horn, Haeng Jik Kim, Dong Koong Kang, and Jae Ho Cho.
A bunch of strong U.S. players are also in the tournament (e.g., Hugh Patino and Pedro Piedrabueno).
Other world-class players are late-deciders (as has been the case in the past), so a few more are still likely to attend. Seven of the eleven currently top-ranked players in the world will be playing in the Verhoeven Open this August.

You will get close-up views, from 10-15 feet away, of the table that you're nearest to. And you will get good views of multiple games at nearby tables.
You are not stuck in one seat. You can walk around the rim of the room and always be 10-15 feet from a table. (You are sitting in uncomfortable huge bleachers, 25 feet or more from the tables, as you might have seen in World Cup videos.)
You can sit in chairs with back or on bar stools"¦ or stand"¦ or walk around"¦ or stretch… or easily take a bio-break.
You can get drinks and food at the bar, and you can sit in the lounge area if you need a break from watching.
You will hear many languages spoken. Some of the languages that I've heard in years past during the Verhoeven Open include: Arabic, Danish, Dutch, English, Flemish, French, German, Greek, Italian, Japanese, Korean, Spanish, Turkish, Swedish, and Vietnamese.
You can play in this tournament — provided you sign up in advance:
or  https://www.professorqball.com/2016/06/verhoeven-open-2016-carom-cafe-ny/
or  http://www.3cushionbilliards.com/events/eventdetail/1035/2016-verhoeven-open-tournament-carom-cafe-billiards-flushing-new-york-usa
The entry fee allows you to play in a round-robin qualifying stage that will begin on Monday morning (August 1) and that will probably end midday Wednesday.
Qualifiers advance to another round-robin stage that will probably end by Friday afternoon.
Then begins the single-elimination matches to determine the champion.
Note: The exact format and timing cannot be known until the total number of participants is known – and that is never known until the eve of the tournament. That said, you can be sure of this:  There will be wall-to-wall billiard for 6 days – and you'll be able to watch at least a few world-class players (who are not seeded) during even the earliest rounds of the tournament. And during the second half of the tournament, those world-class players will be facing off against one another.
If you're thinking "I've seen these guys on video", I'll just say that it's an entirely different experience being there in person because you can really see (and feel) what these amazing players are doing on certain shots.

You're not limited to one or two camera angles: you can move around.
The playing "arena", which houses 10 tournament tables, is (I'm guessing here) about 70 feet by 40 feet"¦ and it's about 16 inches below the viewing-gallery floor, so you have a slight angle down to the table and can get a great view of the how the world-class players line up their shots and where the cue tip is on the cue ball. (You are not sitting at eye-level with the table, an angle from which you miss much detail.)
The camaraderie that exists in the audience is wonderful – great conversations, often with strangers from around the country or from overseas. That doesn't happen if you stay home. There's a special bond among 3-cushion aficionadas, regardless of where you come from.

Carom Café is in an interesting location. It's about a 10-minute walk from Downtown Flushing – a neighborhood in the north-eastern part of Queens (one of NYC's five boroughs). While much of the area is residential, Downtown Flushing is a large commercial and retail area and is the fourth largest central business district in New York City. (Manhattan is about a 20-30-minute cab ride or train ride; endless choices of things to do in Manhattan if you need a break from watching billiards.)
This is the premier 3-cushion tournament held in the U.S. Nothing else comes close.
Did I mention that a whole bunch of top-ranked, world-class 3-cushion players will be competing in August?
And did I mention that the last three winners of the Verhoeven Open tournament were Jaspers, Blomdahl, and Caudron? (Not too shabby, eh?)
"Jack, you're not going to get me to go to New York City!"
OK, OK, I understand that many of you who are reading this column have zero interest in going to New York City. Too crowded. Too expensive. Too much crime. Yeah, it's crowded. Yeah, it's pretty expensive. (Of course, if you really cannot afford the trip to New York, that's a legitimate reason for not attending – and you can instead watch Kozoom.com's streaming of the event.) However, if concern about crime in New York City is what's holding you back, you need to know that New York City has been the safest of the 30 largest cities in the U.S. for some time. (Don't believe me? Check this out: https://www.brennancenter.org/analysis/nyc-can-still-boast-being-safest-big-city)
Still not convinced? You'd rather stay home where you're comfortable. You'd rather be a couch potato and watch 3-C videos. I get it, I get it"¦ but I'm not giving up: I want to urge you to consider getting out of your comfort zone so that you can experience something special, very special.
In order to get you to at least consider attending the Verhoeven Open, I need to ask you:
Do you love 3-cushion billiards? Really love it?
Do you look forward to playing whenever you can?
Do you go regularly to your local billiard room to enjoy, again and again, the agony of those great, inventive, barely-missed shots?
Do you watch 3-cushion billiards on YouTube or Kozoom or by some other means?
Have you ever wished that you could attend a World Cup or the World Championship"¦ but realized that you'll never be able to do that because those events are held in Europe or in such countries as Egypt or South Korea or Vietnam?
Well, if you answer "yes" to any of these questions (and especially if you answer "yes" to more than one of these questions), I'm 99% certain that, if you attend the Verhoeven Open, it will be a mind-boggling event for you – one that you'll be talking about all year"¦ and likely for the rest of your life. If you can't make it to the entire tournament due to time or money constraints, you can always come for the final three days (Aug. 4-6) to witness the crescendo of excitement as the tournament moves toward the climax of crowning a champion. (And don't forget that New York City is a lot closer for most of you than countries overseas.)
Full disclosure: I have zero financial or commercial or legal interest in or association with the Verhoeven Open. I just want you to have the time of your life (without getting into trouble ;-).
I've gone to a bunch of these tournaments over the years, traveling from the West Coast. Every year it's been a highlight in my life. (Yes, I'll be going again this August – because it's irresistible.)
If you can go, don't wait: make your reservations now! And if you can't go, be sure to watch the matches on Kozoom.com.
And here, again, are links to all the details about the tournament:
http://www.usba.net/recent-news/439-2016-verhoeven-open
or  https://www.professorqball.com/2016/06/verhoeven-open-2016-carom-cafe-ny/
or  http://www.3cushionbilliards.com/events/eventdetail/1035/2016-verhoeven-open-tournament-carom-cafe-billiards-flushing-new-york-usa
-Jack Litewka <Berkeley, CA>
<P.S. Thanks go to Bert van Manen, Charles Brown, and David Levine for providing information making editorial suggestions, and correcting mistakes in the draft I sent them. I take credit for any remaining mistakes.>