15 year old Thomas Rice undefeated at Gotham City 9 Ball Classic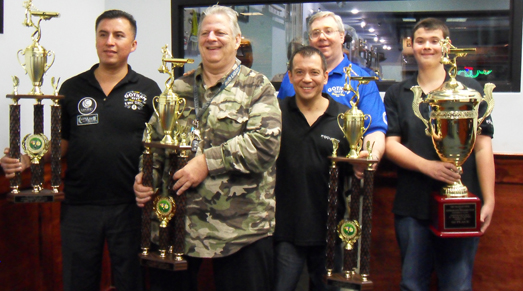 left :  4th Arturo Reyes,  3rd Dave Ascolese;  Runner-up  2nd  Scott
Simonetti;   background (Blue Shirt)  owner-operator Kevin Buckley;
Rightmost 1st place   15 year old Thomas Rice
15 year old Thomas Rice undefeated at the Innaugural Gotham City 9 Ball Classic / Tri-State event at the Gotham City Billiard Club in Brooklyn, NY on November 15-16th.
The event was and Open/B class handicap event, where Open class was the lower level of the Tri-State Tour's 2 divisions of Open level players (Open & Open Plus). Players lower than B class were invited but had to compete as B class players.
Thomas' tournament trail included wins over Stewart Warnock 8 – 3; Omar Alli 7 – 5; Miguel LaBoy 8 – 4; Kapriel Delimelkonoglu 7 – 4, Keith Diaz by forfeit; and Dave Ascolese 7 – 5 for the Hot Seat.   Runner-up Scott Simonetti 8 – 6 and Open Players Gary O'Callaghan 7 – 6 , Open level Chris Derewonski 7 – 1, Scott fell to Dave Ascolese 7 – 6. Scott then won 5 matches, including Dave Ascolese losing by forfeit, due to illness, to reach the Finals.
The Finals began with Thomas Rice receiving a 3 game handicap in a race to eight. Thomas played well and continued to build his lead resulting in an impressive 8 – 3 win. Both Dave Ascolese and Arturo Reyes deserve recognition for the impressive 3rd and 4th place finishes, respectively. Aditionally, credit belongs to C+ player Mike Figueroa for his victories over two Open class players, Daniel Dagotdot 8 – 5 and Roberto Mendoza 9 – 8.
Special thanks Ozone Billiards, Sterling-Gaming, Qpod, Kamui Tips, Ron Vitello, Focus Cases by John Bartron, Phil Capelle, BlueBook Publishing, Human Kinetics , and Focus Apparel for their sponsorship leading to this event.
Open/B     9 Ball
ADDED MONEY $6,000
64 PLAYERS
Payouts
1st            $2,500.00
2nd            $1,750.00
3rd            $1,175.00
4th            $850.00
5-6th             $575
7-8th            $385
9-12th            $300
13-16th$250