Hohmann OUT! Mr.400 Out! Shockers at the 74th
If you like or love 14.1 and not watching this online or in person, you are SEVERELY missing out.
Watch online Pay Per View at www.worldstraightpool.com
Stream TV Match schedule are the following for today August 8th:
The Final Bracket.
Day 5 TV today at www.worldstraightpool.com .
11:00 am Lackner(GER) vs Shaw(SCO)
1:30 pm Van Boening(USA) vs Archer(USA)
5:00 pm Robles(USA) or Fulcher(SCO) vs Bergman(USA) or Stalev(RUS).
7:30 pm SVB or Archer vs Strickland or Immonen .
$15 price for races to 200 points. Order PPV Matches LIVE for today at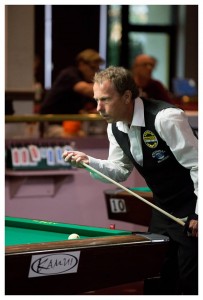 Strickland won a crucial match against Hohmann which led to Thorsten's eventual early exit from the World Tournament
Photo courtesy of World Tournament of 14.1
New York City, NY-  There will be a new World 14.1 Champion this week. 3x winner of this event and reigning champion and #1 seed Thorsten Hohmann was eliminated tonight. Joining him is USA favorite John "Mr.400" Schmidt who was eliminated by Finland's Mika Immonen.  The second stage of the Andy Cloth 74th World Tournament of 14.1 has completed leaving behind 16 players.
The ANDY CLOTH 74th World Tournament is taking place on August 4th-9th, 2014. Dragon Promotions and Dr. Michael Fedak are pleased to bring the 74th production of the oldest billiard event in the world . Also sponsored by Andy Cloth, Kamui Brands, OB Cues, Amsterdam Billiard Club, Realrealcool.com, Pool & Billiard Magazine , Aramith Balls, and George Beckman Kinetic Sculptures. Official patron 14.1 aficionados are Stu Mattana, Tom Gleich, Harold Siegel, Dr. Greg Diehl Plastic Surgery, and Official World 14.1 photographer Charles Eames.  A star studded field has made it back once again to the 14.1 extravaganza taking place at Steinway Billiards Cafe, who is once more hosting the world's greatest straight pool championship.
The Hohmann/Strickland match was full of drama with Strickland striking first blood with a hundred ball lead. Hohmann fough back and nearly leveled the match. Both players then took turns on errors. Eventually they tied at 139 apiece , both needing 11 balls to win and guarantee a berth into the sweet 16. Hohmann made his break ball , the cueball smacked the rack, but glanced into the pocket and scratched. Earl saw a deadball in the pile and fired in a combo and ran out for the huge win. This was the first time both had ever played each other in 14.1.
Hohmann's luck did not improve when Filipino master Warren Kiamco stayed close with Thorsten during the match. Hohmann could not get anything going and kept giving back the table to Kiamco. Warren gratefully accepted the gifts and eventually won 150-107.
This was the very first time HOhmann did not make it to the final 16 bracket.
American straight pool champion John Schmidt also fared badly. Schmidt had won the World 14.1 in 2012 and then followed up with a strong 3rd place last year. But this year he could not find his stride in any of the days and he fell to Max Eberle 150-95. AT one point, Eberle took an intentional 3 foul on 4 occasions! That equaled over 60 points in penalties that he still managed to get over and win.
Schmidt then went on to face Mika Immonen who had lost to Mike Dechaine. Immonen was red hot and Schmidt could not do much in his 150-22 loss.