1st Annual Nick Varner Classic By Steve McDonald
Denver, Colorado
    by Steve McDonald, Tournament Director
Felt Billiards in Englewood, CO was the host site for the 1st Annual Nick Varner Classic, March 21 thru 23, 2014.  The sponsors and promoters for the event were Marc and Kimberly Griffiths who own Str8-Shots.com, a billiard supply company.  The event hosted a 128 player Amateur event and a 32 player Pro event.  Theactionreport.com (TAR) live streamed the entire pro event with a free stream the entire weekend.
The amateur event drew a full field of 128 players and the Pro event drew 26 players which yielded one tough field.  Three BCA Hall of Famers showed up.  Of course, the tournament name sake Nick Varner, "The Scorpion" Johnny Archer and Karen Corr.  Also, soon to be Hall of Famer Jose Parica played.  Young guns "The Fox" Joey Gray, Chip Compton, Jayson Shaw, and John Morra were in the Pro event.  Max Eberle and "The Hatchet Man" Dennis Hatch made the trip from Vegas.  Three WPBA players entered the Pro event, Karen Corr, Laura Smith, and Melissa Little.  The reigning Mexican National Champion Ruben Bautista was there as was the winner, "The Iceman" Mika Immonen.  There was no shortage of talent at this event for sure!
Felt Billiards provided a great venue for this event as the Pros played on six 9 foot Diamond Pro-am tables.
The Pro tournament format was 10-ball, race-to-8, double elimination.  This tournament is a full double elimination event, and as usual in these type events, it went the full two rounds in the finals.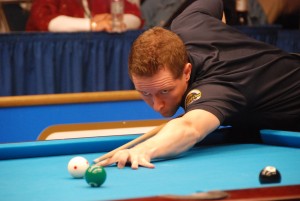 Mika Immonen came from the one loss side and double dipped Mexican Champ Ruben Bautista for the win.  The first set went hill- hill which made for some exciting pool.  Event name sake Nick Varner was also in dead stroke as he finished a strong third place.
Event promoters Marc and Kimberly Griffiths did a great job with this event.  They dedicated many hours and dollars to this events success.  They wanted to do it in honor of Nick Varner and his contribution to the sport of pool.
Tournament Results:
Pro Tournament – 26 Players – $10,500 Added
1st            Mika Immonen                                    $4,720
2nd            Ruben Bautista                                    $2,830
3rd            Nick Varner                                                $1,890
4th            Johnny Archer                                                $1,410
5th/6th            Marc Vidal / Joey Gray                        $1,040 ea
7th/8th            Dennis Hatch / Chip Compton            $745 ea
Highest finishing Lady                        Karen Corr            $500