SEAVER ON TOP AT SLATE BILLIARDS
 SEAVER ON TOP AT SLATE BILLIARDS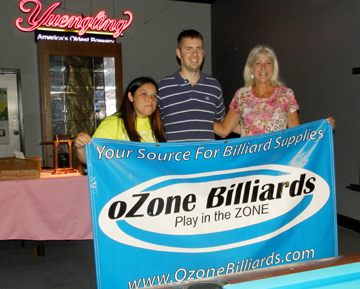 left to right:  Jeannie Seaver, winner; Mike Bradford, room owner; Amy Poulter, second. 
Boynton Beach, Fla. – Not to be deterred after getting knocked out early at last month's event, Jeannie Seaver came to win the Flamingo Billiards Tour Stop #5 on Saturday. Thirty-two players filled the board at Slate Billiards in Boynton Beach, Florida, including Amy Poulter, who has been absent from the tour for more than a year.  But Poulter, room owner of Amy's Billiards in Stuart, Florida, was back in great form, finishing second only to Seaver.
Her path to the finals was challenging after sending Kathleen Lawless west in a double hill match, then losing a close match to newcomer Kelly Errair. Poulter got past Crystal McCormick in another double hill match, the ended the day for Jennifer Page, and then matched up again with Kelly Errair in the final board, winning 7-1.  Seaver swept past Tour Director Mimi McAndrews, sister Vanessa Seaver, took the edge in a double hill match with Cassidy Mulligan and then won over Sue Roberts to get to the finals.
The format is a modified-double elimination playing down to four on each side. The four players on the one-loss side draw into the winners bracket and it is single elimination from that point.  Also making it to the final board of eight was Jessica Barnes, Jennifer Page, Sue Roberts, Cassidy Mulligan, Vanessa Seaver and new player Kelly Errair.
Pictured above: Jeannie Seaver, winner; Mike Bradford, room owner; Amy Poulter, second place.
This is Seaver's third win this year, widening the end-of-year points gap between her and rival McCormick with Seaver decidedly on top.
Many thanks to Slate Billiards' room owner, Mike Bradford, and sponsors Z9 Billiards Cloth, new sponsor Ozone Billiards and Boynton Billiards for their support of the Flamingo Billiards Tour.
Results
($250-added, modified double-elimination)
1st             Jeannie Seaver            ($350)
2nd             Amy Poulter                        ($230)
3rd            Sue Roberts                        ($125)
3rd            Jennifer Page            ($125)
5th             Jessica Barnes              ($80)
5th            Cassidy Mulligan              ($80)
5th            Vanessa Seaver              ($80)
5th            Kelly Errair                          ($80)
The Flamingo Billiards Tour is a WPBA-recognized Regional Tour, and is a stepping-stone to the Women's Professional Billiard Association for women who want to play professionally.  Tour Stop #6, the "5th Annual Cues for the Cure" is scheduled for Oct. 19, 2013 at Amy's Billiards in Stuart, Florida.