TRISH BIDA 2012 USBA Tour "B" Tournament
On Friday August 24th sixteen players assembled at Trish Bida in Houston Texas for the very first USBA Tour B tournament held in the city. Players came from as far away as Des Moines, Iowa as well as San Antonio and Dallas Texas. We registered 10 "C" players and 6 "B" players to start.
The preliminary rounds were held on Friday and Saturday with round robin play in two flights of eight. Doug Deitel, USBA director at large and tournament director for the event seeded three "B" players by random draw into each flight"¦ then the remaining "C" players were also assigned by random draw. In the prelims no player went undefeated and all the matches were hard fought. The top four from each flight moved on to the 8-man round robin finals.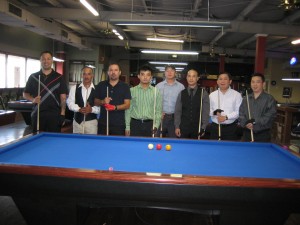 The eight finalists who made it through were Manuel Chau (B), Joel Rivera (B), Lupe Cruz (B), Duy Tran (C), Kiet Nguyen (B), Dung Nguyen (B), John Tran (C), and Patrick Tran (C). Play in the finals began Saturday afternoon. By Saturday evening only two players remained undefeated after three rounds of play. Dung Nguyen had the best game with a fantastic 1.316 against a fellow local player Joel Rivera while Lupe Cruz of Des Moines, Iowa wowed the crowd with his best performance of 1.136.
On Sunday we completed the remaining four rounds of the finals. Dung Nguyen who had been averaging over 1.0 the previous day slipped back, while Joel Rivera caught his rhythm and began his run to the top. But in the penultimate round where Lupe Cruz met Rivera the contest was decided. In a hard fought game Cruz prevailed 25-22 handing Rivera only his second loss and clinching the win. In the last round Cruz bested Dung Nguyen to go undefeated 7-0 (.799) as the clear winner. Joel Rivera took second with a record of 5-2 (.710) while Dung Nguyen hung on for third at 4-3 (.762). The remaining order of finish was John Tran, Manuel Chau, Kiet Nguyen, Duy Tran and Patrick Tran.
Jimmy Vong the owner at Trish Bida was a gracious host providing a great environment for play with his seven Gabriels Imperator tables recently recovered with Simonis cloth by top billiard mechanic Yura H. Ra. In addition Jimmy added $1500 to the prize fund. With the USBA sponsors of the Tour events adding an additional $1800 the total payouts to the finalists exceeded $5000. A cue stick from Tiger, another USBA sponsor, was raffled off and won by a lucky local player who just came to watch the action. Everyone who attended, players and spectators alike, agreed it was a great first event and all are looking forward to many more in Houston.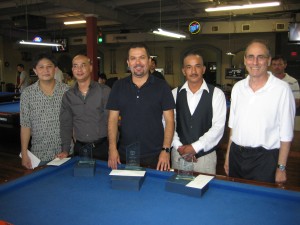 The picture of the winners shows Jimmy Vong (owner) Dung Nguyen (3rd) Lupe Cruz (WINNER!), Joel Rivera (2nd)
Doug Deitel U.S.B.A Tournament Director
 Final Chart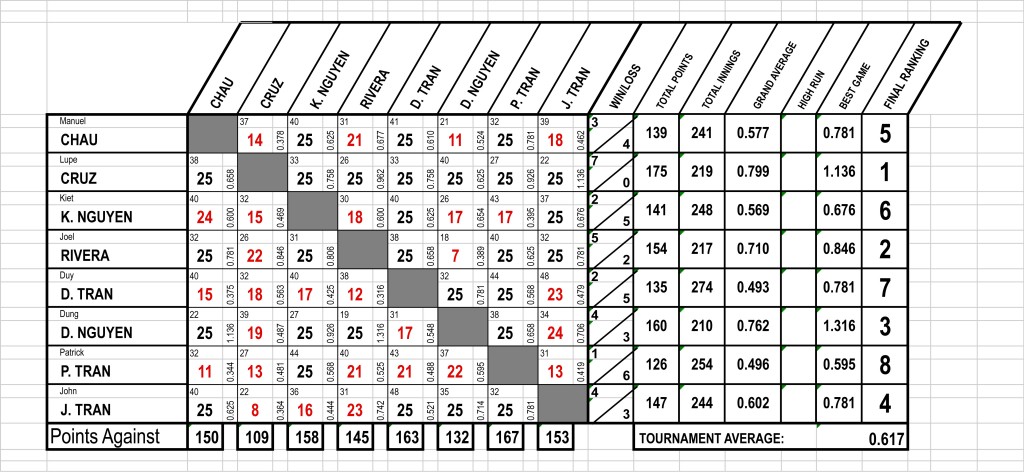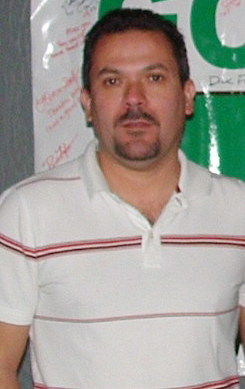 Lupe Cruz wins
 
FLIGHT A
A1            Manuel Chau                  B
A2            Joel Rivera                     B
A3            Dung Nguyen                 B
A4            Dave Griffith                   C
A5            Duy Tran                         C
A6            Toan Nguyen                  C
A7            Minh Lam                        C
A8            Nacho Galindo                C
FLIGHT B 
B1            Kiet Nguyen                     B
B2            Lupe Cruz                        B
B3            Lan Vo                              B
B4            Dung Truong                   C
B5            Khanh Ly                         C
B6            Tim Nguyen                    C
B7            Patrick Tran                    C
B8            John Tran                        C
16 Players – Two Flights of 8
Top Four to the Finals 8-Man Round Robin
Prizes to ALL in the Finals  
1st            $1,350.00
2nd            $1,100.00
3rd            $810.00
4th            $610.00
5th            $455.00
6th            $300.00
7th            $255.00
8th            $200.00