Rebirth! Allison Fisher Wins US Open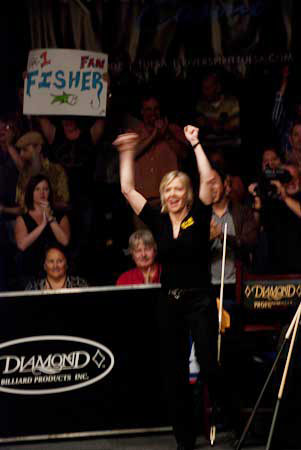 By Sally Lee      Photos courtesy of Carla Bonner
Tulsa, Oklahoma USA-  It had been a very long 39 months since England's Allison Fisher had won a WPBA Pro Tour stop title. And over 4 years had passed since her last US Open finals. Amazingly, it had been almost as long since her last ESPN match appearance in the United States. What had once become a routine custom to see the "Duchess of Doom" at the end of every event (and usually winning it), had now become a high mountain to climb for her. With Asian dominance in women's pool the new standard, and teenage World Champions coming out of the woodwork left and right, it seemed to some that Allison's best days were well behind her. Fisher changed the minds of all doubters worldwide by winning her 5th US Open Championship last week.
Fisher's last WPBA Win in San Diego years ago almost seemed like a farewell to an illustrious career
Her win at this year's US Open by no means was easy. Allison came straight from Shanghai,China where she had a disappointing finish with only one match win. A 15 hour flight there and a 15 hour flight back to Tulsa is not something anyone would take well after a bad loss.
"I reminded Allison before her first match, that despite the last tournament, she was actually playing the best pool of her life", said Charlie Williams, Fisher's coach and manager with Dragon Promotions. "Pool is just a numbers game. Keep playing well and eventually you will win tournaments."
Allison won her first match against rising amateur Dana Aft of Georgia 9-2. Then she faced formidable tour veteran Dawn Hopkins, and played a solid match with another 9-2 victory. Next she took down fellow Brit Val Finnie in a closer than it looked 9-5. But now she faced her greatest threat of the tournament, South Korea's Ga Young Kim. Kim was the defending champion of the event, and to most that follow the sport, considered to be the #1 woman to beat. If Kim would win this US Open, it would be her third consecutive US Open Championship win.
Allison came on strong leading 3-0. But as expected, Kim fought back and took the next 6 games in a row to lead 6-3. Never to be outdone, Fisher came back at 6-6. Allison was breaking strong and had outbroken all her other opponents, but Ga Young Kim's explosive break could not be matched. She regained the lead at 7-6 with neither player doing much wrong. Allison tied it again at 7-7. Then Kim blinked first and had a huge miss on an easy 8ball and Fisher took the lead to goto the hill at 8-7. But Kim was not done yet as she made a fantastic jump shot length of the table and went 2 rails for perfect shape on the 2ball, after a Fisher pushout. Kim ran out to make it 8-8. The final game was classic with an awesome defensive battle on the 4ball. Kim snookered Fisher first, where Allison then kicked 2 cushions and made good contact and left no shot. Kim re-safed again and Fisher again went 1 cushion for a hit. Kim would play safe 2 more times and Fisher would kick and hit the 4ball each time to the delight of the audience. Finally Kim made an error and left Fisher a possible safe or bankshot. Allison decided to go for the win, and banked the ball in but was left with a challenging 5ball up table with the cueball rested against the rail. She went for it but missed it. Kim had a touchy out, but held her nerves and made a nice run for the match win 9-8 and move onto the quarterfinals.
"We looked at the chart and projected it was likely going to be Allison versus Ga Young in the fourth round. But it could've gone either way", said Kristi Carter, Allison's partner and Vice President of Alfie Incorporated, Fisher's brand company.
The formidable Xiao Ting Pan, a World Champion from China Photo by Eugene Lee
The win would have put Fisher undefeated still with a guaranteed ESPN match, her first in years. Instead, she now faced a formidable Xiao Ting Pan of China. Another test for Fisher. Pan came on strong and took the first 3 games. Undeterred by the score and by the tough loss minutes earlier to Kim, Fisher then put on something only that can be described as a "doomsday" clinic. Allison down 0-3, went and played a flawless 9 games to win the match 9-3 completely outshooting,maneuvering, and outbreaking the former World Champion from China.
"I've played Xiao Ting several times, and I've never done that before", said a slightly bewildered Fisher after the match. It was reminiscent of Fisher's 9-0 semi-final  whopping of Ireland's Karen Corr less than a year ago.
Allison now found herself in an ESPN televised quarter finals against her best friend on tour, Kelly Fisher. The following day the two British Fisher imports (who coincidentally also reside in the same city of Charlotte,North Carolina) faced each other for the right to advance. Allison led early in the match, but once again found herself trailing 4-2. Again classic Duchess of Doom as she fought back and turned the tide once more and held on for a 7-5 victory.
The Battle of the Fishers
She now faced another South Korean, newcomer Erica Park. Park, also coached by Williams and managed by Dragon Promotions, was having a terrific debut tournament winning 7 consecutive matches on the loser's side after a 1st round loss. To add another twist, Park had actually eliminated Fisher at last year's Yalin Women's World 10-Ball Championship. Both players had both built momentum to meet each other.
"I told Allison that Erica was going to come after her with everything she got and had corrected her mistakes from the earlier match with Jeanette. I told Erica that the Allison she would be playing today was not the same one she played last year. And she would have to take advantage of the few chances she may get (from Fisher)." Coach Williams could be seen in the corner of each of his players in all their previous matches. "I'm just hoping both players have great performances." When asked where he would sit in the semi-finals, he wisely answered ,"Right in the middle of them both."
Fisher looked strong in the first game but missed position on the 9-ball and played safe. It wasn't good enough as Park made a very long challenging cut on the 9-ball. Fisher came back the next and tied 1-1. Park led one more time at 2-1. It was then the Allison Fisher show as she played solid pool and forced errors from Park. Final score 7-2 which ended Park's dream run at the US Open but kicked one more monkey off Fisher's back. A different Allison indeed. Fisher had made the finals.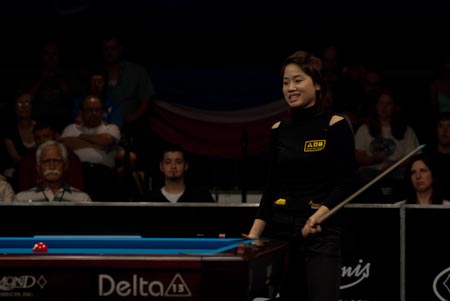 Erica Park couldn't be too upset with her first semi-final finish losing to her idol Allison Fisher
On the other world, Ga Young Kim seemed like nothing could touch her invincibility. Though she had a close scoring 7-5 win over Villarreal, no one really doubted the winner of her matches. Next she obliterated European Champion Jasmin Ouschan 7-2. Identical scores by both finalists. This US Open had many fateful coincedences.
Fisher vs Kim re-match. The Duchess of Doom vs The Little Devil Girl.  East vs West. Short haired Blonde Beauty vs Long Black Haired Beauty.  The Greatest Ever vs the World's Greatest.
This US Open finals was too juicy for anyone to pass up, and the finals was packed with hundreds of fans.
A US Open finals for the ages
In the first rack, Allison outdefends Kim and forces a foul. But Fisher misses position later and misses a tough 6ball, Kim runs out 1-0. The next rack is dramatic with defensive moves and later Fisher makes a tough long 7ball but has to play safe on the 8ball. Kim attempts a jumpshot and misses. Fisher makes a tough 8 and then a very difficult side pocket cut shot on the 9ball with the cueball frozen. 1-1. Fisher breaks well and makes a touchy runout to lead 2-1. Fisher continues her streak and breaks and runs another rack for 3-1 lead. Kim and Fisher do another long safety exchange taking 7 turns on the same 3ball. Kim makes terrific long cutshot and runs out to make it 2-3. Allison hiccups the next rack when she misses the 9-ball and now the match is tied 3-3. Crucial game as Kim monster breaks and pockets 3 balls. The 6-9 combo is dead and she only needs to make 2 balls before that to take the lead. She misses a routine 5ball! But the ball hits 2 rails and rolls into another pocket, Kim raises her hand to apologize then makes the combo and now leads 4-3. Allison faces a tough 6ball length of table from a Kim safety. The pressure is enormous with a chance to tie the match again and break Kim's momentum. Allison misses the 6ball by a mile but fortune is balanced as the cueball clips the 8ball and then clips the 9ball in for a lucky game win! 4-4. Kim misses a makeable 4ball, and Fisher scrapes through another strategic battle with Kim and excels to 5-4 taking back the lead. She regroups and smashes another great break and runs out again to get onto the hill 6-4. Fisher's 3rd break and run in the finals. She is now within one game to win the championship.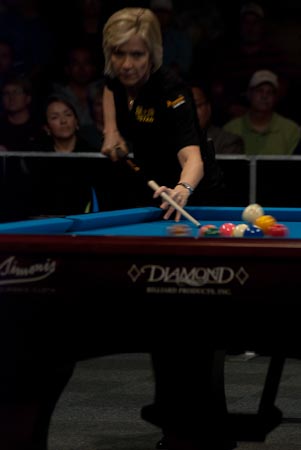 Mama's got a brand new break!

The normally stoic Fisher shows slight emotion and lets out a deep breath while in her chair. She breaks the final rack, another perfect break and pockets a ball. She makes a sensitive 1ball with no good position to get to the 2ball.She now faces a choice between a safety on the 2ball , or a long off angle 2-9ball combination shot. She lines up the combo. She is going for the win! Hits the cueball with perfect precision and technique, the cueball goes to its target, hits the 2ball which hits the 9ball, and the 9ball goes straight into the heart of the pocket! Allison Fisher drops low to the ground with her fist and pumps it right back up in a full arc! Allison Fisher is the US Open Champion!
"It's been a long time and it feels brilliant!  And to beat Ga Young, it's a great accomplishment because , besides myself (with a laugh) , she is the best player in the world (audience chuckles) . And I want to thank Charlie Williams who has been coaching me and making me realize there are even more levels in the game that I'm achieving", Allison said in her champion acceptance speech.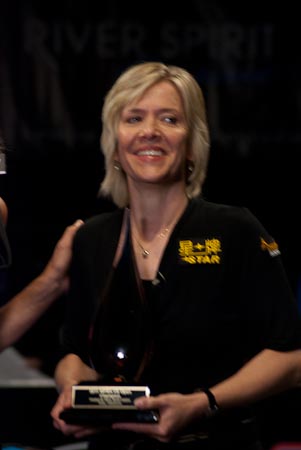 An elated Allison Fisher enjoys her moment of glory
"This is the very first WPBA event I've ever traveled to. Some reason I really felt she was going to win. Maybe that's part of the reason I came. Maybe it was her father coaxing me to go there, too", Williams says with a smile. "I kind of like to believe life is a mixture of destiny and making your own paths."  Allison's father Peter Fisher was her biggest inspiration, and he passed away in 2001.
"Allison has worked very hard on her game. All areas of her game are improved, including her break which has been her Achilles heel in the past. I mean look, she had four break and runs in the finals. It is a very rare thing to see someone that skilled and gifted revamp everything and make a life change. But that's who she is. And that's why in my professional opinion, she is the greatest woman's player in the world" said Williams.
"I could have played a safety on that last shot, and normally I hate combinations, but for some reason at that moment I just felt it ", explained Allison afterwards. "I got very emotional before that final game, that's why I took that deep breath. In hindsight, I realized right afterwards that in my very first WPBA finals win, I also made a tough combination to win the final game. And my father was there to see it. And guess what, today is Father's Day."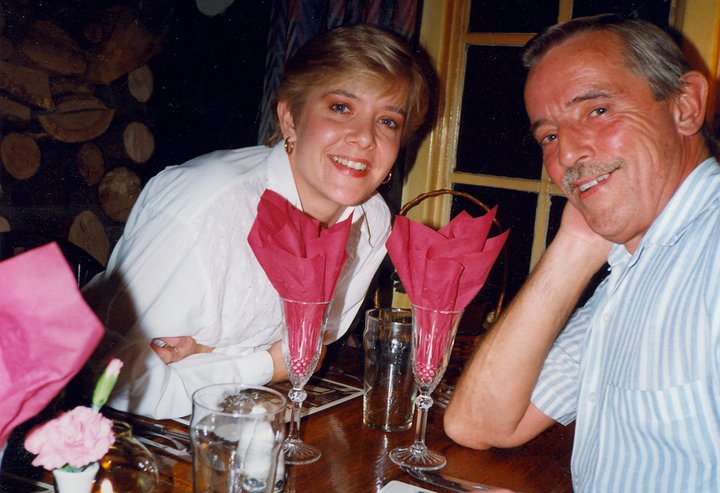 Allison and her father Peter Fisher, her inspiration since the start of her career
2011 WPBA US Open Champion Allison Fisher,The Duchess of Doom