USA 5 – 5 Europe
11th December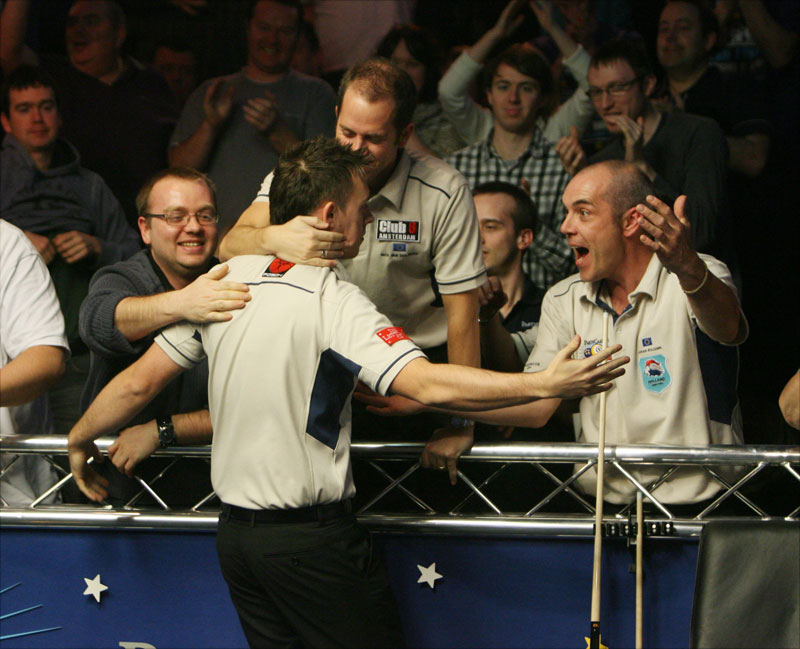 Boyes Buoyant in Bethnal Green
USA 5 – 5 Europe
Hatch/Archer 1 – 5 Immonen/Boyes
Archer/Deuel 5 – 2 Immonen/Souquet
Rodney Morris 2 – 5 Karl Boyes
KARL BOYES was the man at the Partycasino.com Mosconi Cup on Saturday afternoon as he got Europe on level terms twice; first with a 5-1 win in the company of Mika Immonen over Dennis Hatch and Johnny Archer and then a 5-2 victory over Rodney Morris in the singles.
That made the overall score a finely-poised 5-5 as the action moves into the Saturday evening session. Boyes was clearly motivated by Dennis Hatch's earlier claims that he was the weak link in the European line-up.
"It's unbelievable. That's for Dennis Hatch. If he's about or listening, that's for you, pal!
"I was in the practise room and watched the match before where Mika and Ralf had some bad rolls but I just tried to block everything out in my match.
"The team is playing well, it's only 5-5 and we're fighting. The crowd are behind us so let's kick on from here now.
"Everyone is shouting for us and that makes you feel alive. We're relaxed and having a good laugh!" he added.
Boyes, in the company of Mika Immonen, helped Europe level things in the opening match of the session, beating Hatch and Archer 5-1.
With the races reduced from six to five due to time constraints, the pressure was even more intense for the players. Add to that the full-to-the-rafters crowd and the scene was set for a test of nerves.
It was the Europeans who won that particular battle as the Americans, particularly Hatch, struggled.
Boyes and Immonen were flawless though and they ran out easy 5 – 1 winners to make it 4-4.
"It's a good win and there was a lot of pressure on us as we didn't want to go 5-3 down. But obviously we played really well and the crowd was different class," said Boyes.
"Practising on the table upstairs it's getting battered so every time you have to hit hard but out here you just have to play a bit softer.
"This is the first time I've played at the York Hall and when you walk down the stairs into the arena, the atmosphere is so good you think you'll fall down the stairs," he added.
"Mika believes in me as do all the team and we have a great spirit so let's hope we can win it."
Archer had the opportunity to redeem himself in the second match and he enjoyed some huge slices of luck as he and his partner Corey Deuel beat Souquet and Immonen 5 – 2.
"We're keeping the pressure on them and just played solidly so we will just keep the heat on them."I remember when I was the rookie and it's a shock. I know Dennis has said Karl Boyes (who will be playing next) would be the weak link but I think he's a good player. But Rodney is playing great so Karl will have a tough match."
"I was very lucky and missed a couple of shots. We had a few rolls that went against us yesterday but got lucky today," said Archer.
"I would rather be seven up but leading is much better than losing. But this is going to be a dog fight and I expect it to go to the end."
It was Boyes though who dented those hopes in the final match of the session as he beat Rodney Morris against the odds. That made it three wins from three matches for Boyes.