The Pearl Strings Together A Victory
The Pearl Strings Together A Victory
By: Gerry Mayen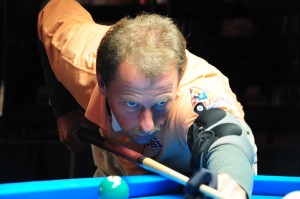 The 2010 Steve Mizerak Championship kicked off on Thursday November 4 from inside the Hard Rock Live at the Seminole Hard Rock hotel & Casino in Hollywood, FL. 71 Players registered to compete for the championship. An impressive field of players lined the brackets, including all winners the 2010 Seminole Pro Tour winners: Johnny Archer (Mr. Cues II Atlanta, GA); Stevie Moore (Bankshots Billiards, Jacksonville, FL); Rodney Morris (Hollywood Billiards, Hollywood , CA and Strokers Billiards, Palm Harbor, FL); Donny Mills (Capone"™s Billiards, Spring Hill, FL); Shane Van Boening (Marietta Billiard Club, Marietta, GA); Corey Deuel (Diamond Billiards, Cape Coral, FL); Mike Dechaine (Raxx Pool Room, West Hempstead, NY). A slew of other great shooters were in the competition as well, including: Thorsten Hohmann, Mike Immonen, Ralph Souquet, and current US Open Champion Darren Appleton.
Though play started on Thursday morning, the excitement began during the draw held at the players meeting the night before. The luck of the draw was not so lucky for some players, as some amazing matches were drawn right from the start. Ralph Souquet and Corey Deuel, Gabe Owen against Ernesto Dominguez and Donny Mills took on Dennis Hatch. Any of these early matches would have been worthy of being the finals, but the random draw played no favorites and the crowd got a special treat of seeing these remarkable matches in the opening round.
Of the intriguing first round pairings, they could have all gone either way. All the players were focused and shooting exceptionally well in hopes of claiming the top prize of $20,000. Corey Deuel edged Ralph Souquet hill-hill to advance. In Deuels next match he would top Bill Dunsmore 9-3 to face the winner of the Mills/Hatch match. Mills would also win his match hill-hill versus Hatch and set the stage for another classic match against Deuel. These two have faced each other numerous times this past Seminole Pro Tour season, with Deuel coming out victorious each time. This tournament would be no different. Deuel would top Mills 9-5, sending him to the one-loss side to face Gabe Owen, who had lost his opening match 9-7 to Ernesto Dominguez.
Deuels next opponent would be a surprise. Everyone at the Hard Rock Live venue studied the tournament chart and anticipated the potential match-up between defending champion Johnny Archer and Corey Deuel, Seminole Pro Tour Player of the Year, but Archer would not survive his previous match with Adam Smith. Smith would send Archer to the west side with a 9-7 victory and in the process crush any chance of a Deuel Archer face-off.
Archers weekend would not get any better, as he would fall in the bracket to face Gabe Owen. Owen would take the match 9-7 and send the defending champion home before even reaching the money rounds. Off of his big win, Owen would see Donny Mills shoot extremely well and beat him 9-7 and to miss the money by one round. Archer and Owen would not be the only top pros to miss out of the money rounds. Team Europe Mosconi Cup member Ralph Souquet would rebound after his opening round loss to Deuel by beating Mel Rowe 9-0 and Zion Zvi 9-5, but would fall to South Florida local
Randy Epperson 9-4. This goes to prove that anything can happen on the table and results are not guaranteed.
Another Mosconi Cup member from Team USA would also face the same fate of an early exit, Rodney Morris. Morris, who won this tournament two years ago and finished as runner-up last year, would not be cashing this year. Morris began the tournament with a win against Jeff Crawford, but would then be sent left by Earl Strickland by a count of 9-2. Morris would then get a win against Gary Lutman 9-4 to set-up a match against fellow Mosconi Cup teammate Dennis Hatch. Hatch would get an early lead and maintain it the length of the contest for a lopsided 9-3 win.
Shawn Putnam played in three Seminole Pro Tour events this season and missed another tour stop that was played in his home room due to a nagging back injury. Putnam played well at all three tour stops he participated in this season, but failed to win a tour stop. Putnam began the tournament with a tough fought win against Tommy Kennedy 9-7. Putnam would then take out South Florida local Anthony Meglino 9-3. Putnams stroke was looking sharp and was breaking very strong in his early wins. His next opponent would be Shannon Daulton and his strong play would continue by winning this match 9-5. Putnam would then be paired with Thorsten Hohmann. Putnam would win the lag and not look back. He would take the match by a final of 9-5.
Putnam and Deuel, both riding hot streaks on the winners side of the bracket, would play for a chance at the hot seat match. Putnam would not be denied as he jumped all over Deuel from the start and Putnam never really gave Deuel a chance as he cruised to another victory 9-4. This would set up a hot seat match against Earl Strickland who was also having a great tournament.
Strickland began the tournament with a victory against Mike Barbagallo 9-5. He would then send Rodney Morris left 9-2. On the second day of the tournament, Strickland would face South Florida local player Pierre Palmeri and defeat him 9-2. He would then face, arguably, his biggest challenge to that point in Mika Immonen. Strickland would trail early, but would make some amazing outs and ran a couple of racks to take the lead and defeat Immonen 9-6. Strickland journey through the brackets would not get any easier as he would have to face defending US Open champion Darren Appleton. This match was an instant classic. Both players shoot magnificently, both having some break and runs with both playing safeties perfectly, when needed. In the end it was Strickland who would come out victorious hill-hill.
This would set the stage for a hot seat match between two players playing extremely well and both winning matches that they were not expected to win. Strickland would be the one that would continue his hot streak as he would take down Putnam 9-5. Strickland would secure his spot in the finals and would wait for the winner between Shawn Putnam and Darren Appleton. Appleton defeated Mike Immonen 9-4 in the fourth place match for a chance face Putnam and advance to the finals.
Putnam would recover from being sent to the one-loss by continuing to shoot the way that got him to this point. Appleton, though playing very strong, was simply unable to capitalize on the few opportunities that Putnam gave him. Putnam would prove to be too much for Appleton. Putnam would get his chance to avenge his loss to Strickland for the championship.
The stage was set up perfectly inside of Hard Rock Live, as the finals table shined bright for all of the television cameras to capture the epic match up. Fans lined up outside of the venue waiting for the gates to open for a chance to see this spectacular match.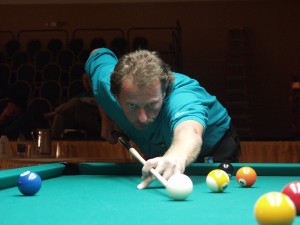 Strickland would win the lag and break first. Strickland was unable to run the rack and Putnam was able to jump to an early 1-0 lead. Putnam would continue to apply the heat and go up 2-0. Strickland would cut the lead to 2-1 off of a few costly misses by Putnam. They would both exchange racks, but Strickland finally caught up and tied the score at 4 then tied again at 5. Putnam would win the next rack to go up 6-5 and from there it would be the Earl Strickland show. Strickland would tie the match at 6 and then go on to win the next two racks. One the 14th rack with the score 8-6, Strickland sank the 10-ball to go up 9-6 and he threw both hands in the air and yelled, Finally, I did it as He went to shake Putnams hand and congratulate him on a great match only to have Putnam inform him that it was a race to 11 and not 9. Strickland would not let the embarrassing moment shake his psyche. He would win the next two racks and officially win the 2010 Steve Mizerak Championship.
All of the excitement of this final match will be aired nationally on Fox Sports nationally in stunning high definition on the weekend of December 11th and the week of December 13th. Please check your local listing for times and dates.
The Seminole Pro Tour would like to thank all of the fans and players who supported the tour this year. We would also like to thank the sponsors for the Steve Mizerak Championship: the Seminole Tribe of Florida, Seminole Media Productions, Seminole Hard Rock Hotel & Casino, Hard Rock Live, Diamond Billiards, Delta 13, and the Predator Group. The 2011 Seminole Pro Tour schedule will be announced very soon.
Final Payouts
Place  Player  Prize Money
1 Earl Strickland $20,000
2   Shawn Putnam  $11,000
3  Darren Appleton $8,000
4   Mike Immonen  $5,000
5  Thorsten Hohmann $4,000
6  Corey Deuel $4,000
7-12 Tony Crosby   $3,000
Dennis Hatch 9  Mike Dechaine  $1,900
Charlie Williams
Donny Mills
Pierre Palmeri
13  Max Eberle  $1,375
Adam Smith
Mike Davis
Shannon Daulton
17  Jeremy Sossei  $1,000
Shane Van Boening
Stevie Moore
Randy Epperson
Ernesto Dominguez
Justin Hall
Robb Saez
Louis Altes