THREE WORLD CHAMPIONS TO PLAY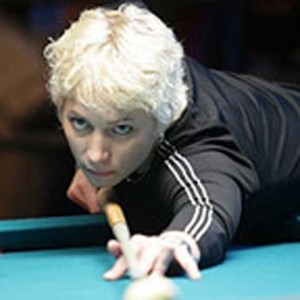 Gerda Hofstatter Mike Sigel Thorsten Hohmann
To all fans & sponsors who have been so helpful to make this happen I want to say thanks. To the players ~ Thanks for coming to Maryland! And to players who could not make it ~ hopefully next year! Please feel free to circulate. Thanks again. Peter Burrows
~~~~~~~~~~~~~~~~~~~~~~~~~~~~~~~~~~~~~~~~~~~~~~~~~~~~~~~~~~~~~~~~~~~~~~~~~~~~~~~~~~~~~~~~~
THREE WORLD CHAMPIONS TO PLAY
IN MARYLAND OPEN 14.1 STRAIGHT POOL CHAMPIONSHIPS
BIG DADDY'S BILLIARDS, Glen Burnie, Maryland
June 19-20, 2010
After last year's spectacular showing by the "Black Widow" Jeanette Lee, the 2010 Maryland Championship is attracting pool enthusiasts from all up and down the east coast. Players and fans will begin arriving into the Baltimore-Washington area as early as noon on Friday, June 18 for the Sixth Annual Maryland Open 14.1 Straight Pool Championships. This event has become one of the most prestigious straight pool tournaments of the year in the U.S. and for the second year in a row has been held at a new family billiard venue, BIG DADDY'S BILLIARDS, 7954 Baltimore-Annapolis Blvd., Glen Burnie, Maryland. Under the ownership of Richard & Cynthia Molineiro, "Big Daddy's" has become a premier east coast mecca for the beautiful and imaginative game of 14.1. Straight Pool. Previously the Maryland Straight Pool title has been won by:
Danny Harriman 150 defeated Dave Daya 28. June 28, 2009
Bob Maidhof 150 defeated Danny Barouty 140. July 12, 2008
Mika Immonen 150 defeated Mike Davis 59. June 10, 2007
Ed Hodan 150 defeated Danny Barouty 89. Nov 19, 2006
Ryan McCreesh 150 defeated David Hunt 67. Aug 8, 2005
Tournament officials once again provide 'in home' congenial accommodations for many of the out of town players who come long distances to play. Most know one another well and this makes for an enjoyable weekend of friendship, camaraderie and top notch pool all tied together. Festivities commence at a gentle start with a player-guest reception on Friday evening hosted by tournament director Peter Burrows. This provides a few hours of warm hospitality before the sparks began to fly on Saturday, and a nice chance for new comers and lesser known young players to visit and share cordiality with some of the great champions who are playing.
The 40 player field of the top Straight Pool players in the country arrive Friday for afternoon warm-ups, check out the venue, the tables and equipment, and get in a few hours of practice as this year's competition will be fierce, highlighted by participation of three World Champions, Mika Immonen winner of the World Straight Pool Tournament in 2006, the inimitable Mike Sigel, six time World Pool Champion, and Bob Hunter of Chicago, winner of the 1991 World Championship. They will be joined by a host of the nation's top players, including Charlie Williams & Mike Davis of Fla., Danny Harriman of Kansas City, Mike Dechaine, RI; Dan Heidrich, Webster, NY; Bob Madenjian top player in CT; Steve Lipsky, Zion Zvi & Danny Barouty from NYC. Jeff Kerr, Dave Daya & Bob Maidhof of PA. Virginia is represented by the state's two top players, David Hunt & Bob Chamberlain. This year's top female players are represented by the comely and talented great Charlotte, NC Women's Champion, Gerda Hofstatter. Jeanette Lee, "The Black Widow" always a regular participant in the Maryland Open is unable to attend this year as she excitingly is in a 'delicate condition.' The sparkling Miss Hofstatter will represent the fair sex most ably and just recently won the San Diego Women's Open Nine Ball Tournament, one of the major events on the ladies WPBA Tour. Most of the best local players including Shaun Wilkie, Andy Lincoln, Ed & Brian Deska round out the field.
10:00 a.m., Sat. Sun June 19-20, Big Daddy's Billiards, Glen Burnie, MD (410) 760-1332; Admiss. $10.
Thorsten Hohmann
Mike Sigel
Gerda Hofstatter